Discover more from Blackbird Spyplane
Your No. 1 source for style, culture, & "unbeatable recon"
WILD '90s Italian sport sunglasses that nobody's checking for...
+ FIRE Japanese socks, SPICY rare gloves & more "custom recon"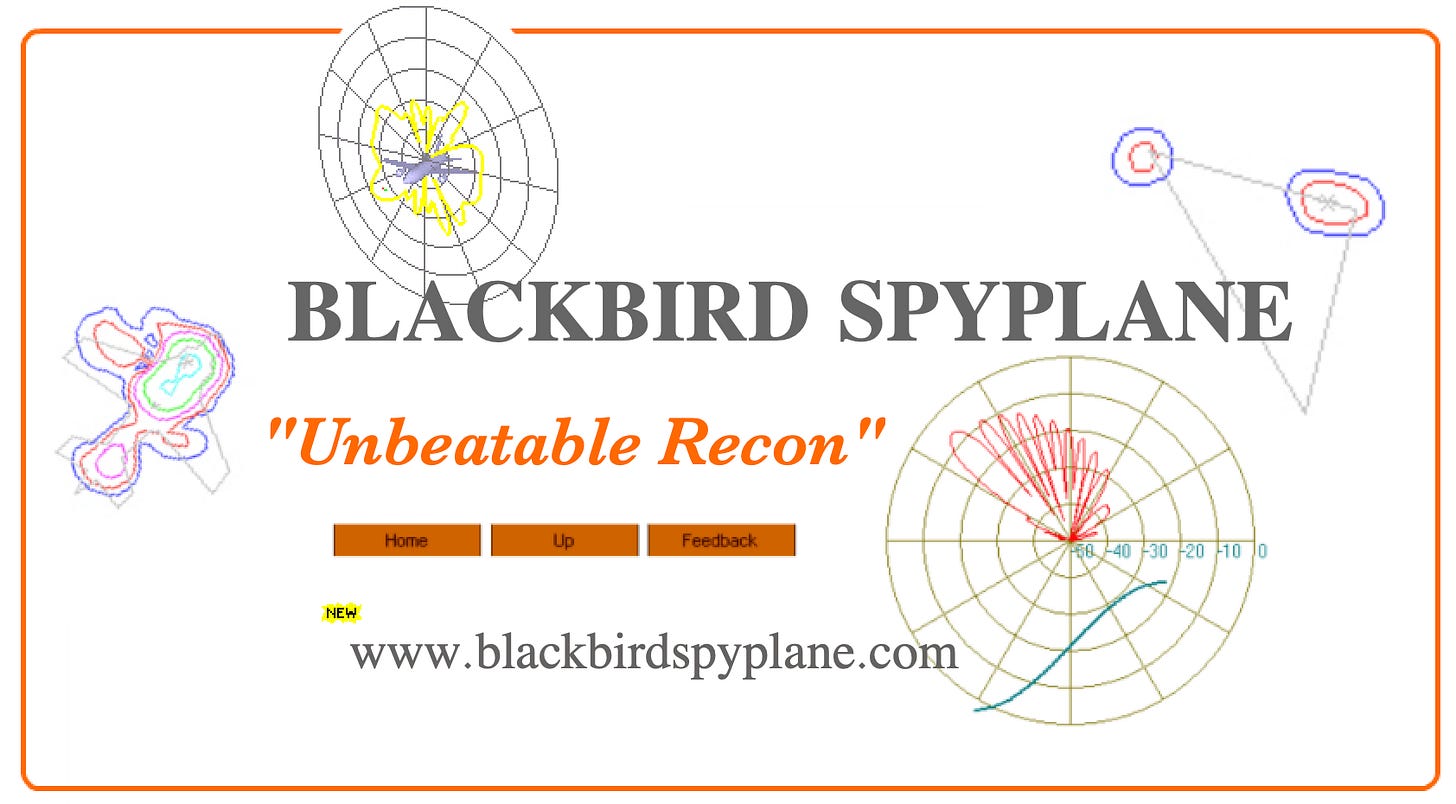 FYI: You can now cop a paid CLA$$IFIED RECON-tier subscription to BLACKBIRD SPYPLANE: Support the newsletter & enjoy EXCLU$IVE $PYPLANE INTEL behind the paywall…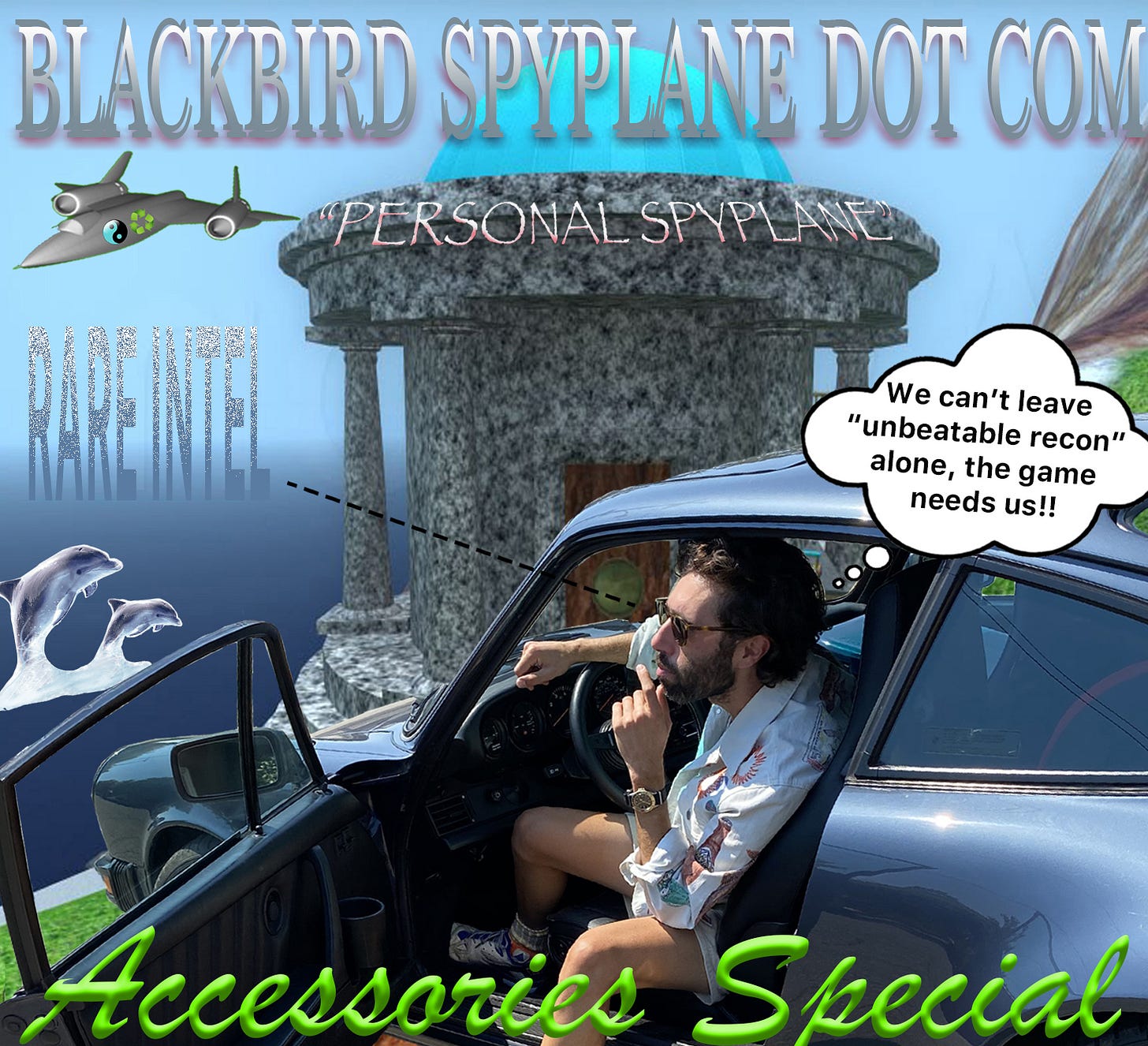 Yesterday — while wearing a 1-of-1 hand-drawn Small Talk jacket and listening to nothing but "Hard Feelings" by confirmed Blackbird Spyplane-enjoyer Lorde back-to-back with "Shook Ones Pt. II" on repeat — we hopped in a car that we actually own and didn't just sit in for 5 minutes for Photoshop purposes… and drove to a remote seaside cliff to do profound contemplation beside a DOPE ancient temple …

Before long, the din of the waves arranged itself into 3 whispered questions: "What do you do?" the ocean asked us, "and who do you do it for? Also, a quick follow-up: How do you come up with this s**t up in the studio??"

Damn, this was too easy: "We put our HEARTS & SOULS into creating the No. 1 source across all media for 'unbeatable recon,'" we told the ocean, "and we do it for the greatest & most-beautiful newsletter readership in the game!!" (As for question 3, chill, that's a trade secret.)

When we returned to BLACKBIRD SPYPLANE HQ we felt spiritually renewed: We whipped up today's accessories-heavy installment of "Personal Spyplane" — the BBSP series where we answer custom-recon requests with rare top-shelf intel — AND we made a solemn vow to GO EXTRA HARD NOW AND 4EVER, with the damn ocean itself as our witness!!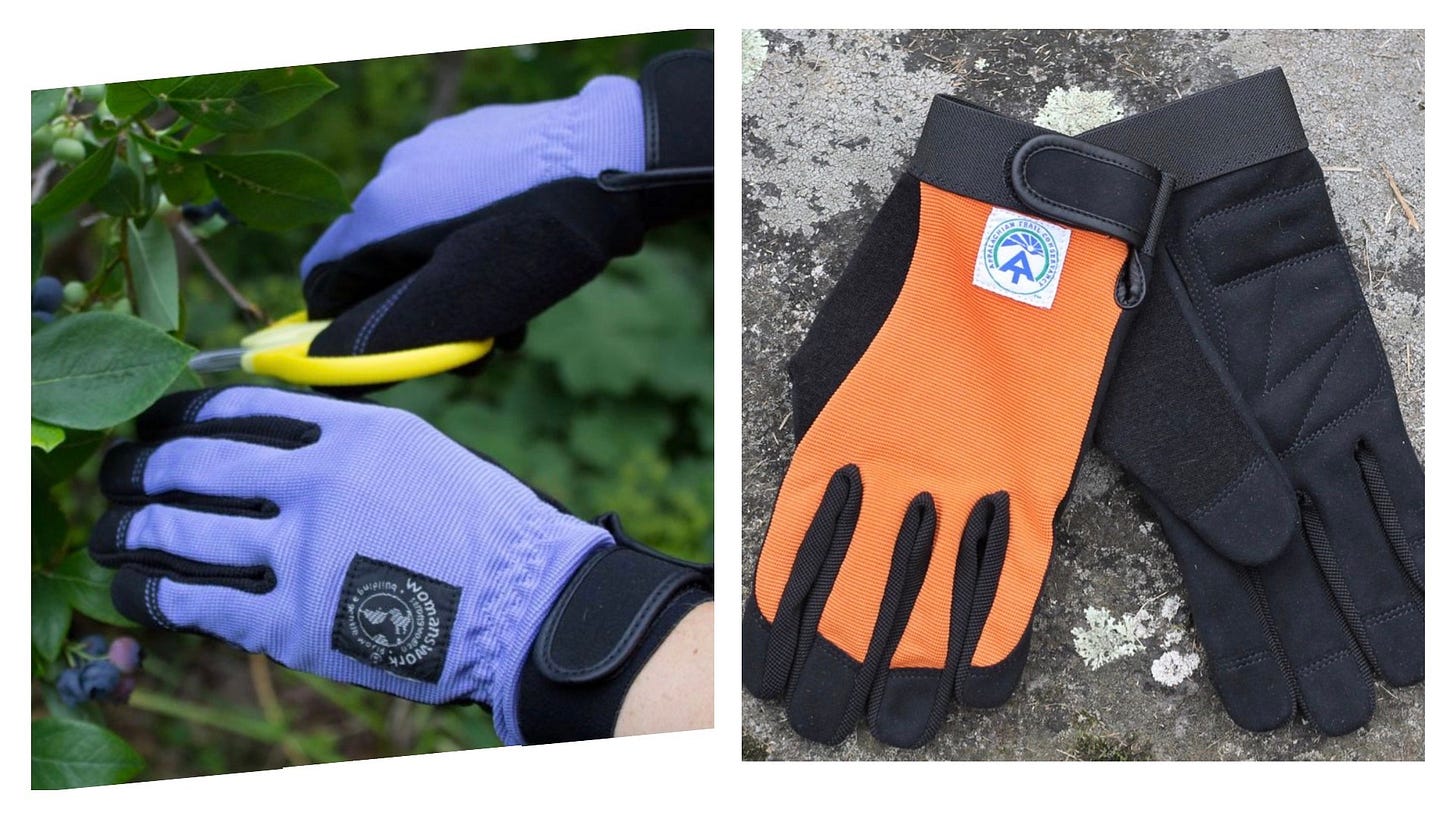 "Need the spiciest work glove intel ASAP" — @Day0lds
If u know anything about the SPYPLANE u know that — much like Antwerpian BBSP icon Dries Van Noten, not to mention BBSP homey Molly Young — we r proponents of GARDENING YOUR WAY 2 BEAUTY, HAPPINESS & JAWNS-RELATED GLORY. When we did our "Rare Botanicals" roundup of sick horticulturally themed joints, we shouted out Womanswork, a NY-based maker of $19 gardening gloves (above left) that come in colors so dope u r tempted to rock them in non-botanical contexts, such as checking the firmness of high-quality produce at the grocery and/or placing your thumb and forefinger on yr chin in a fit pic and 'scheming on these millions.'

So we were stoked 2 see that Womanswork has put a "Manswork" "synthetic leather gardening / trail-hiking glove" (above right) in its webstore … AND THIS S**T GOES HARD on some unselfconscious Heron Preston s**t??

The glove is cruelty free, which we appreciate because animals are divine beings with many lessons to teach us AND it has an "Appalachian Trail Conservancy" tag, i.e. official GARDENING-GORP-CROSSOVER CERTIFICATION.

A platonic-ideal SPYPLANE accessory — only $25, here.
***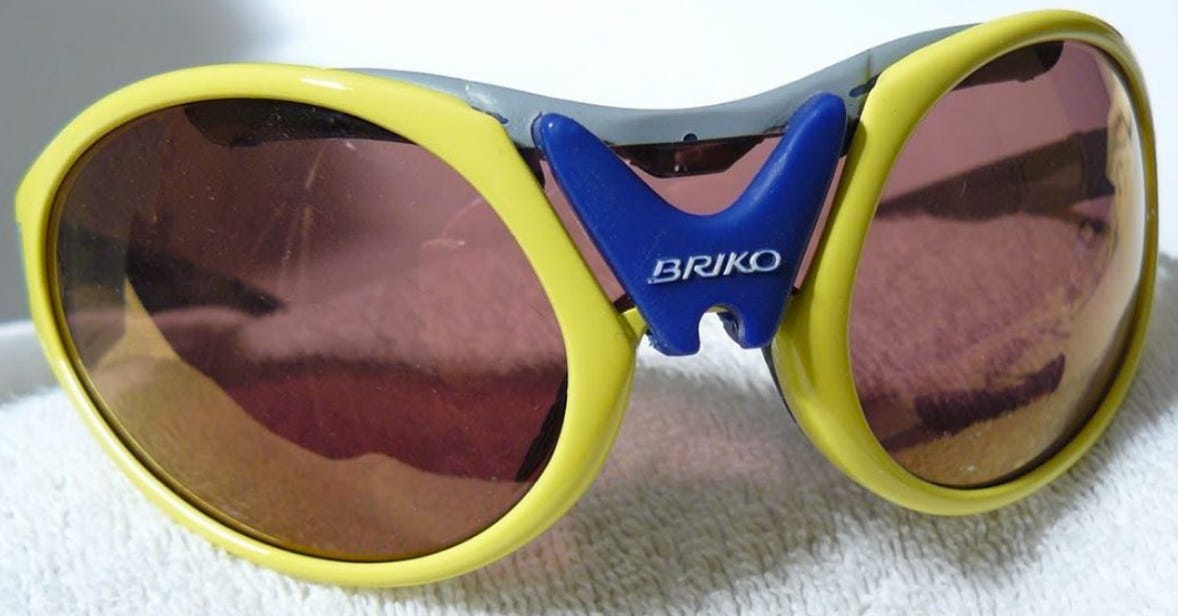 "sport sunglasses not oakleys" — @petesmiley
Firstly, we want to let the record show that this thoughtful reader swiftly followed up these 4 words with a heartfelt apology for hurling a sentence fragment at us like we are a search engine AND NOT 2 HUMAN ANGELS BLESSED W/ EXTRAORDINARY RECONNAISSANCE-BASED GIFTS who deserve the courtesy of at least a question mark!! 😤 😉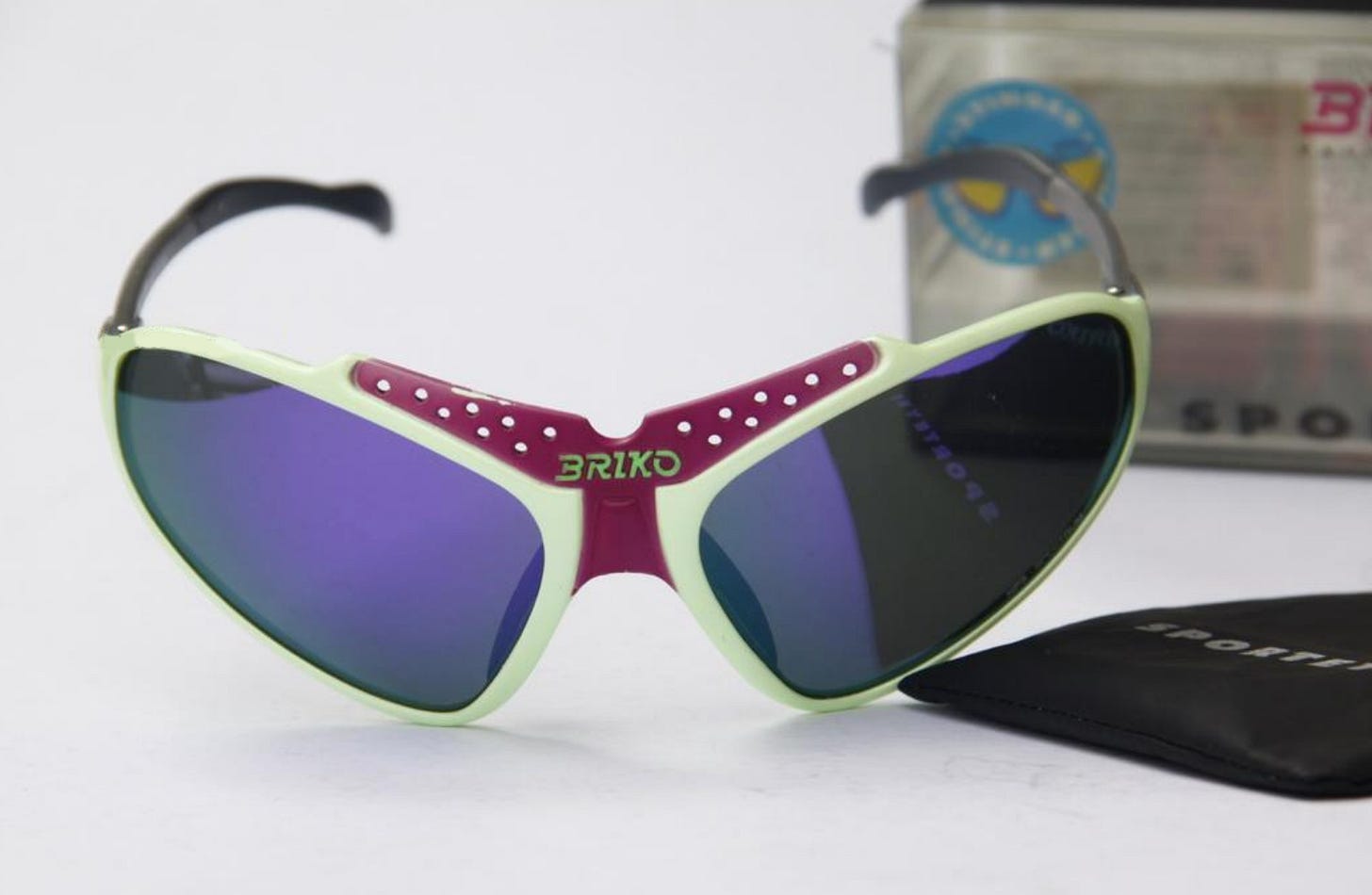 If yr on the lookout for sublimely weird non-Oakley sport shades, we have 2 magic words for u: "VINTAGE BRIKO." The other day we threw a tight pair of Brikos into the Blackbird SpyMall — which will go behind the CLA$$IFIED-TIER paywall as of September 8 — and an eagle-eyed BBSP reader snapped them up instantaneously …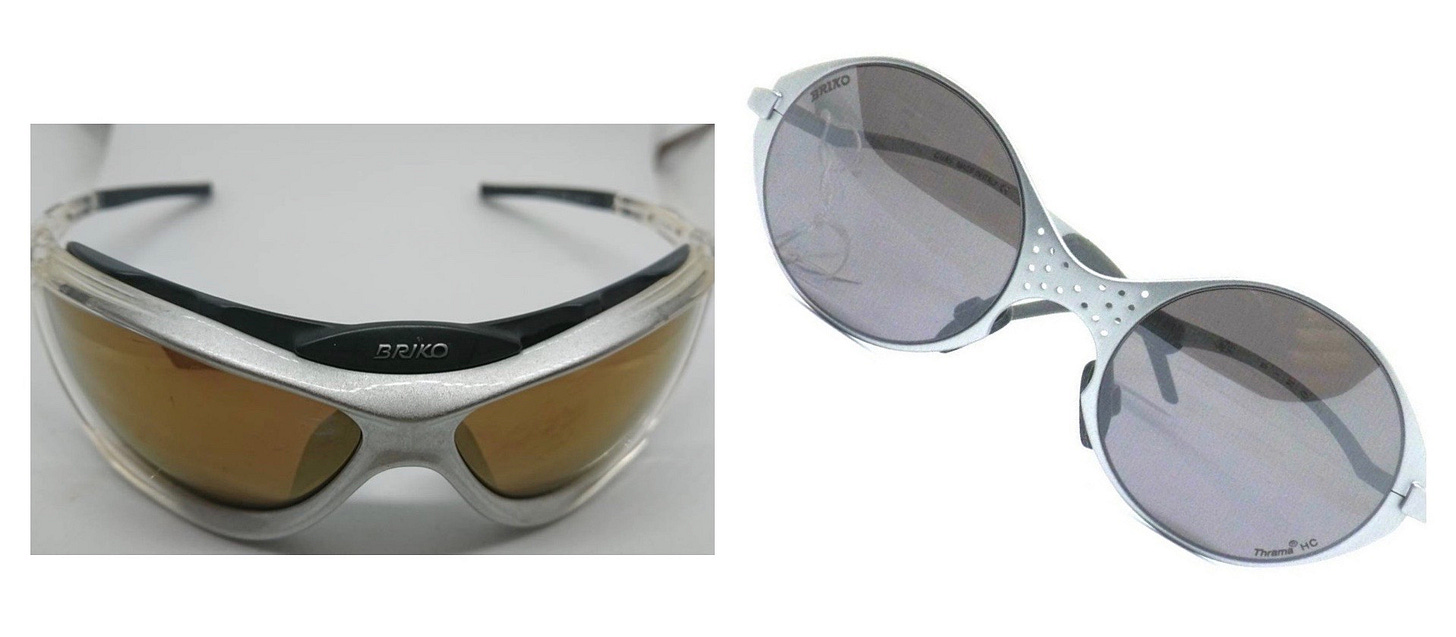 Briko is an Italian brand that makes sunglasses ostensibly for cycling, among other sports — and their '90s and early-'00s joints have aged extraordinarily well / are entrancingly bizarre / feel extremely on-point right now … some models are further out-there than others, but there's a fairly wide range to pick from…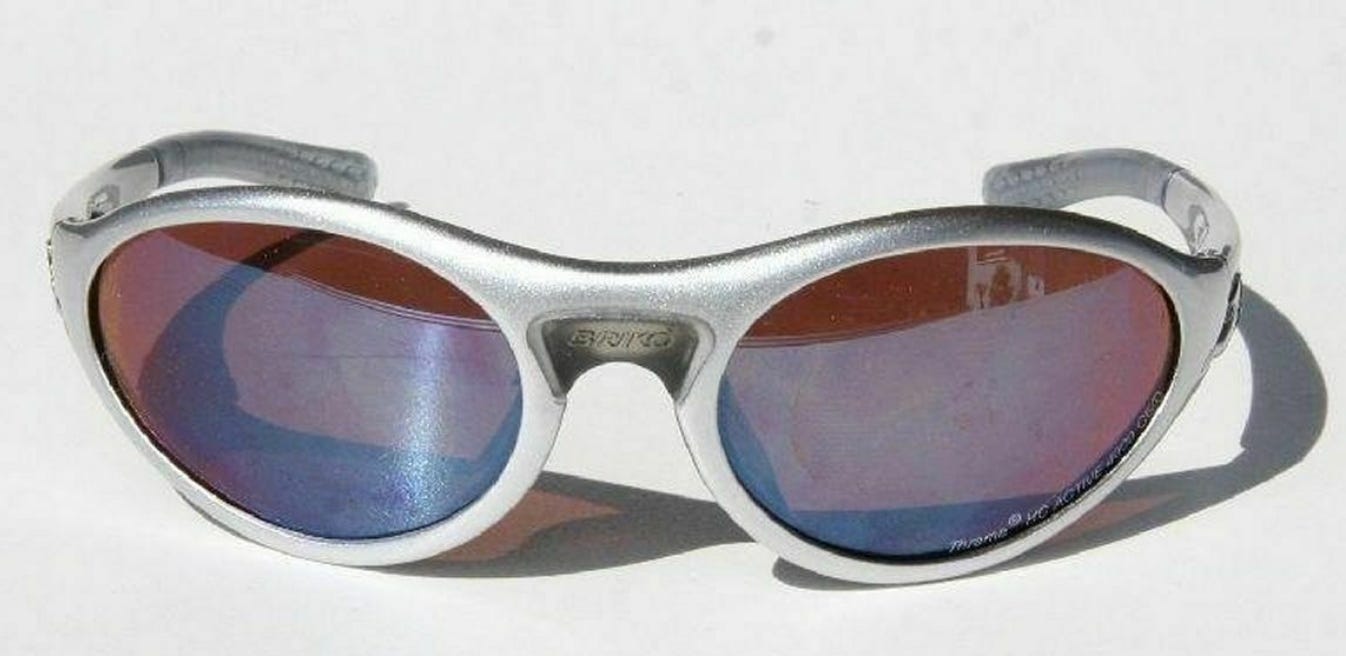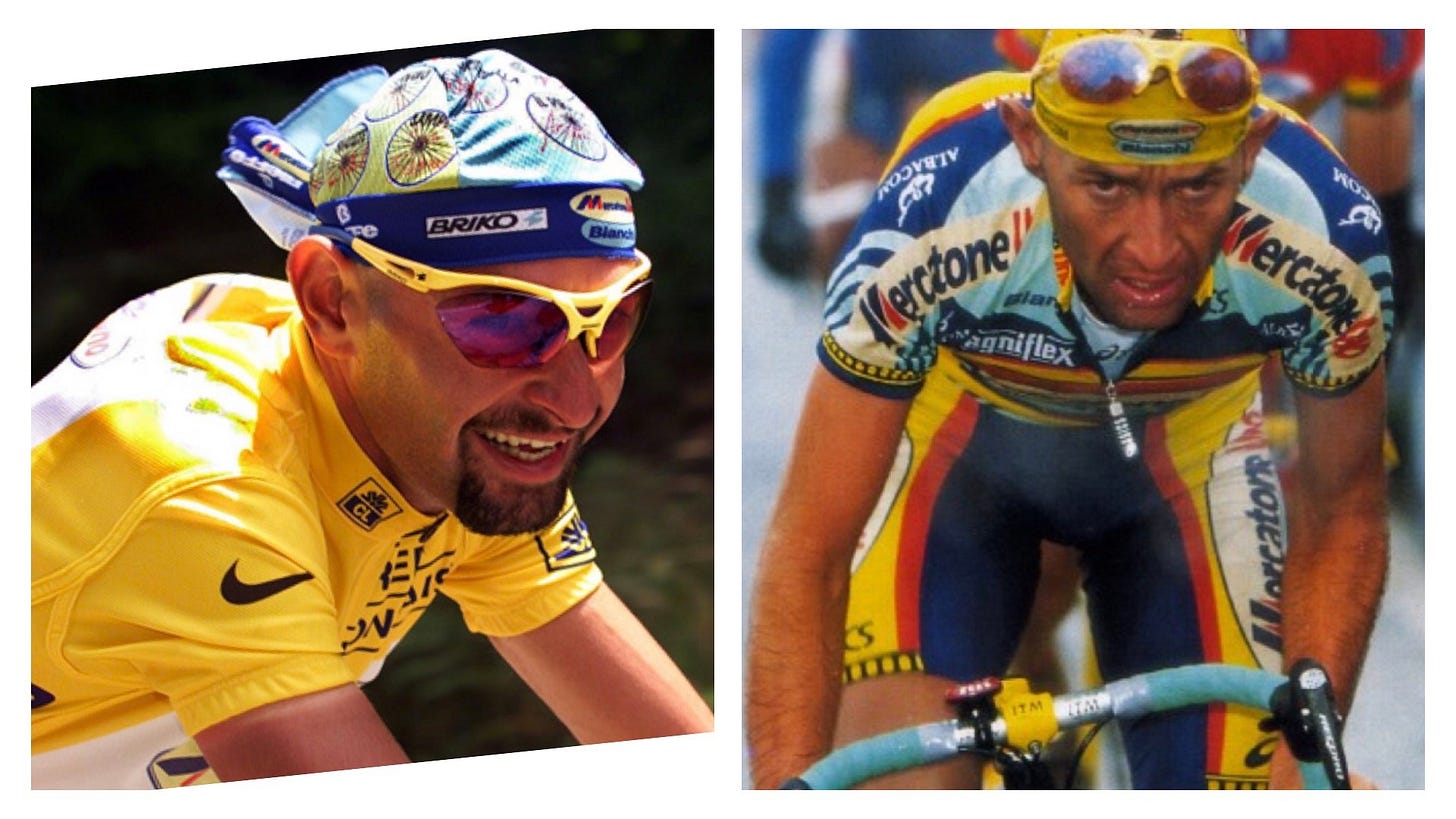 We've added a few more Briko shades to the Blackbird SpyMall — which, again, goes behind the CLA$$IFIED-TIER paywall as of September 8 — so u can channel the ghost of Italian legend Marco Pantani, aka "Il Pirata," a tortured grand-tour champ with MAJOR short-man swag & a MAJOR Briko sponsorship … his demons chased him up European mountains before chasing him into an early grave, RIP.
***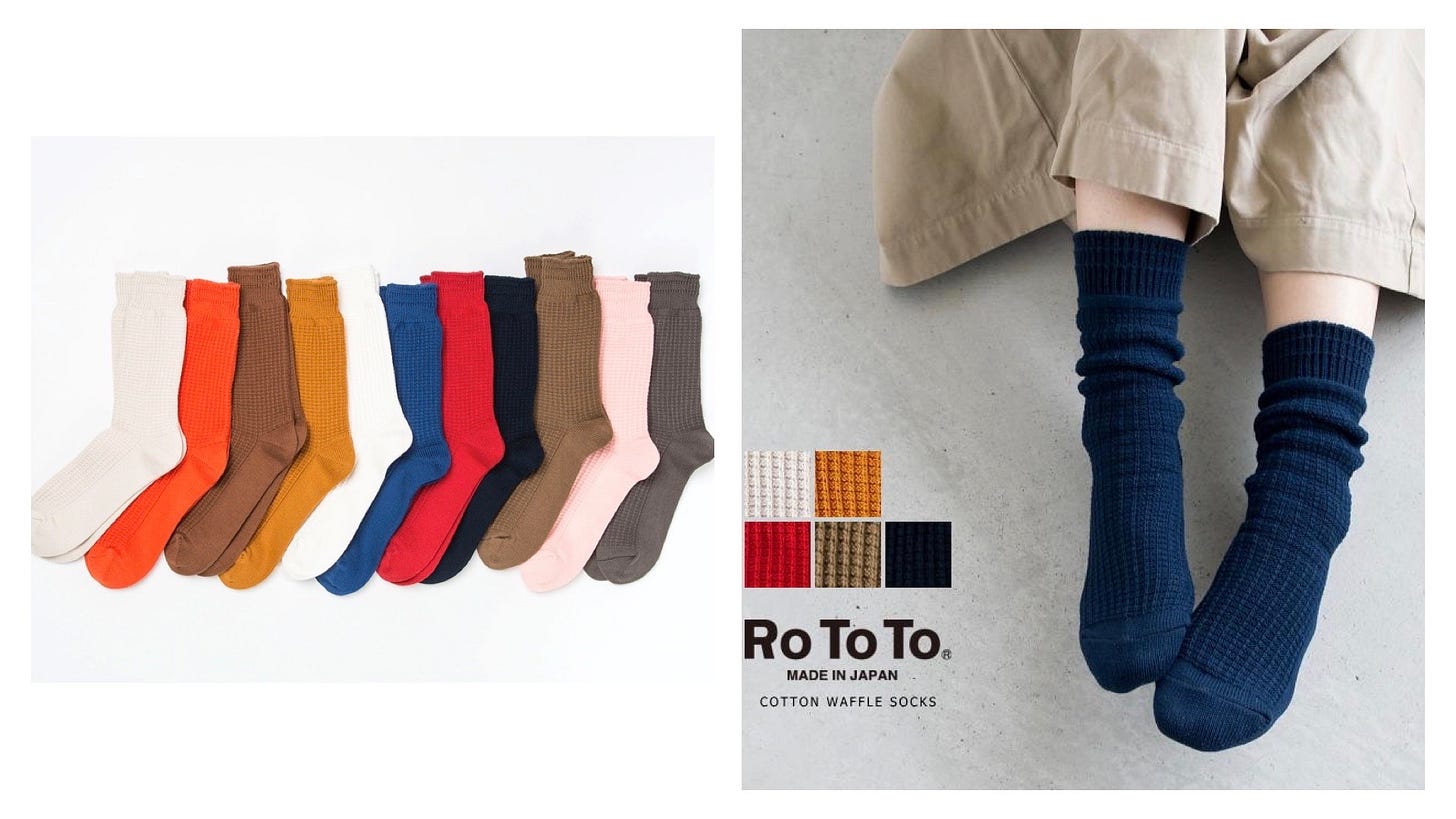 "best everyday sock?" — @conrad.grimmer
"any hot sock recon?" — @mralexreece
Conrad & Alex were 2 of approx ~300 ppl who asked sock-intel questions in our last open call — maybe before long we will do a MAJOR STOCKINGFOOT DEEP DIVE …?? Till then, we can tell u that personally we rock four socks and four socks only — LL Bean raggs, graphic Henrik Vibskov joints, Anonymous Ism tie-dyes, and our No. 1 daily favorite: RoToTo Waffle Socks.

These r made in Japan, durable, comfortable and a little slouchy without being "sloshy" … They have put in work for us both on neighborhood strolls pounding the frog-carved concrete (below left) and GORPING OUT in the rocky, rattlesnake-heavy hills outside Ojai (below right)…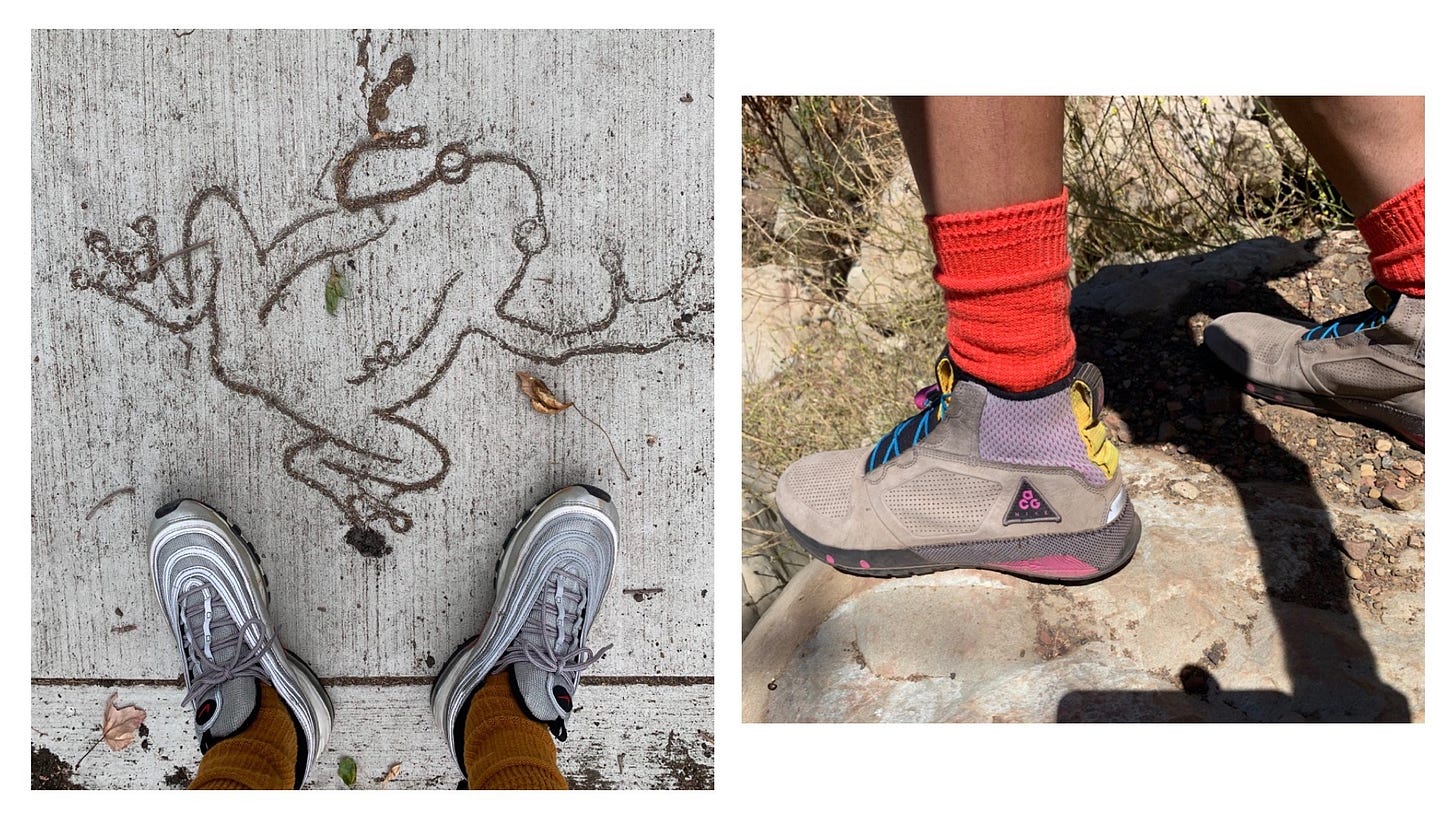 We shouted out these socks when we went on the only podcast that matters, Throwing Fits, and at that point most stockists were sold out — BUT RoToTo just dropped a restock on a few stores in the US, Canada and UK, with some new colors… Find different ones at Old North here; Reliquary here; Trading Post LA here; Sunnysiders here; Foxhole here; and probably some other places in the next coming weeks if u keep yr eye open.
***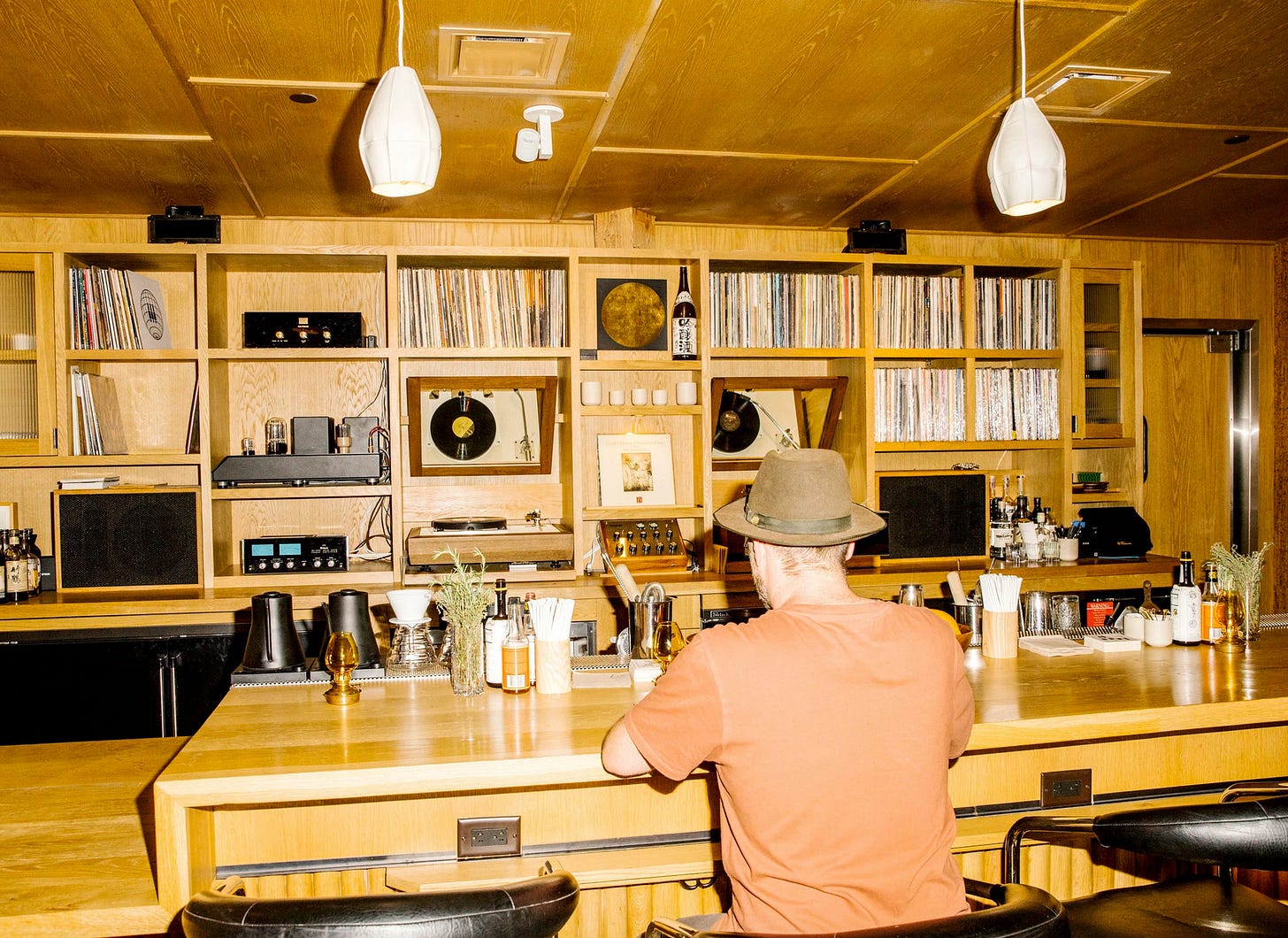 The bar and deluxe-Garrarded-out turntable setup at In Sheep's Clothing, currently reborn as a streaming platform. Photo by Nathaniel Wood

"how do i listen to music the right way?" — @bigfoot1459
The greatest way to listen to music is obviously in Tokyo, at hi-fi bars like Bar Martha, Grandfather's or, if it's not too crowded, JBS… i.e., drinking a nice drink in a vibey room with a beautiful sound system while rare-vinyl frequencies wash over u. The second-greatest way is in Los Angeles at In Sheep's Clothing. ISC's a downtown hi-fi bar that opened a couple years back, heavily inspired by the Japanese originators, where yr expected to keep yr talking low-volume, aka "say less," and where we've discovered tons of super-dope under-the-radar ambient, electronic, new wave & jazz chunes… sadly ISC is currently closed because of Covid…

BUT just last week they launched a new music discovery / streaming platform called "ISCHiFi" — including room-recordings of the actual bar — and it is a truly beautiful thing. (They also published an "entry level" guide for building yr own hifi vinyl setup at the cribbo…)

We've been streaming ISCHiFi at Blackbird Spyplane HQ for a few days now and we r extremely grateful for it.

U will f**k with it, too, unless yr taste levels are sub-Mach 3, in which case u aren't reading this sentence, because the taste levels of the BBSP readership are by definition Mach 3+, so what we have here is a logically airtight "You're Gonna Love It" BBSP guarantee.

Before we go — wildfire season has hit California hard and early this year, with ash falling from smoke-filled skies throughout the state for days now. BBSP just gave a donation to a great queer + trans-led group based near us called Mask Oakland that supplies masks to the unhoused and other vulnerable populations across Northern California & which does other community work related to the wildfires and COVID. If yr looking for a way to help, please consider them.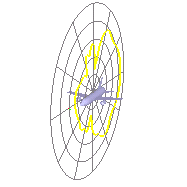 Share this newsletter with an elite tranche of 50-75 of yr wisest / most-respected friends, and brush up on our LIFE-IMPROVING "UNBEATABLE RECON" at BlackbirdSpyplane.com.