Discover more from Blackbird Spyplane
Your No. 1 source for style, culture, & "unbeatable recon"
These pants made from TRASH are FIRE
+ HYPER-PLEATED Issey Miyake-style masks & more fall recon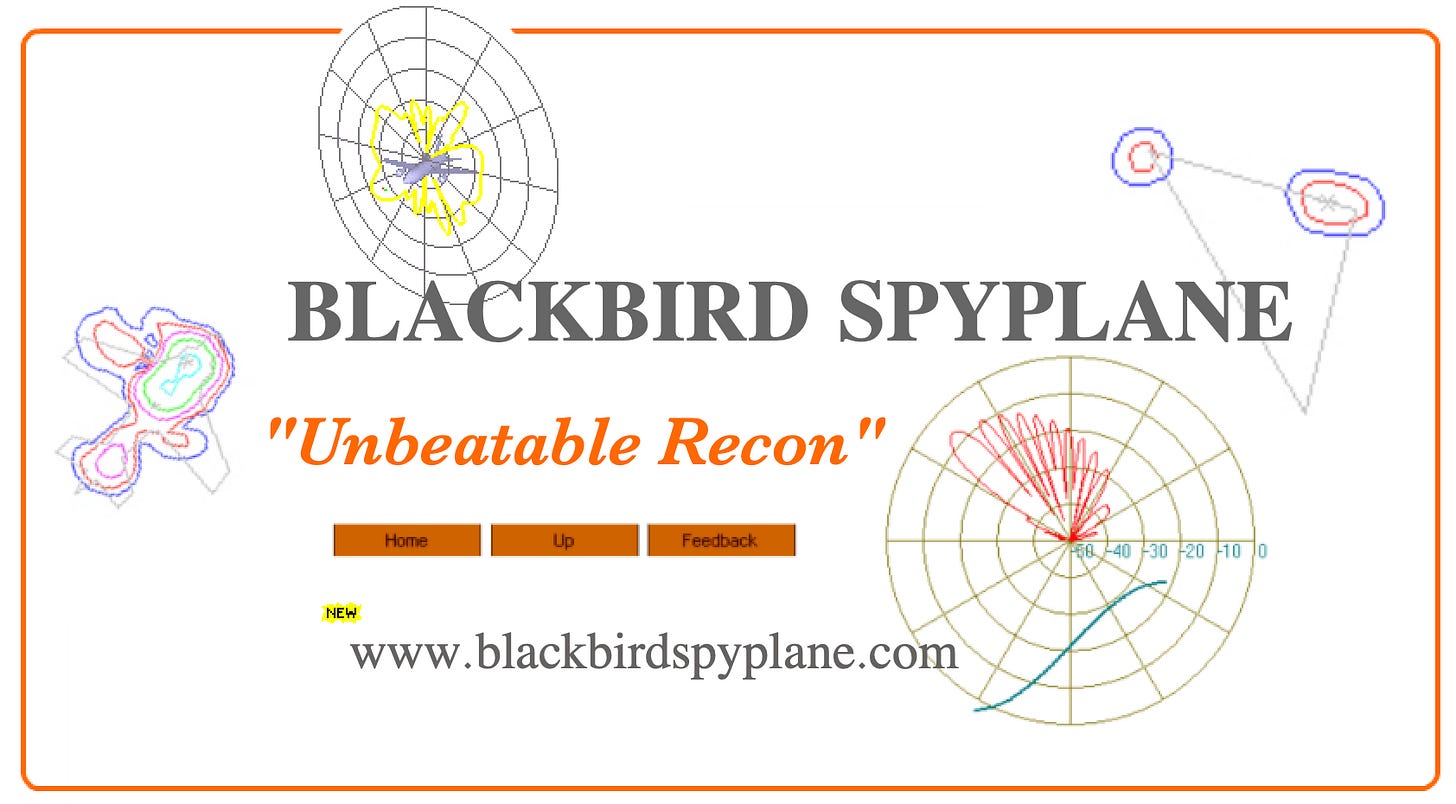 MAMMA MIA: You can & should now cop a CLA$$IFIED RECON-tier subscription to BLACKBIRD SPYPLANE — support the newsletter & enjoy EXCLU$IVE $PYPLANE INTEL (like the beautiful new "SpyTalk" chat room!) behind the paywall… Posts like this one r gonna start going on LOCK DOWN after Sep 8th, lovers, so $mash the $ubscribe button and AVOID PLAYING YRSELVEZ 😉!!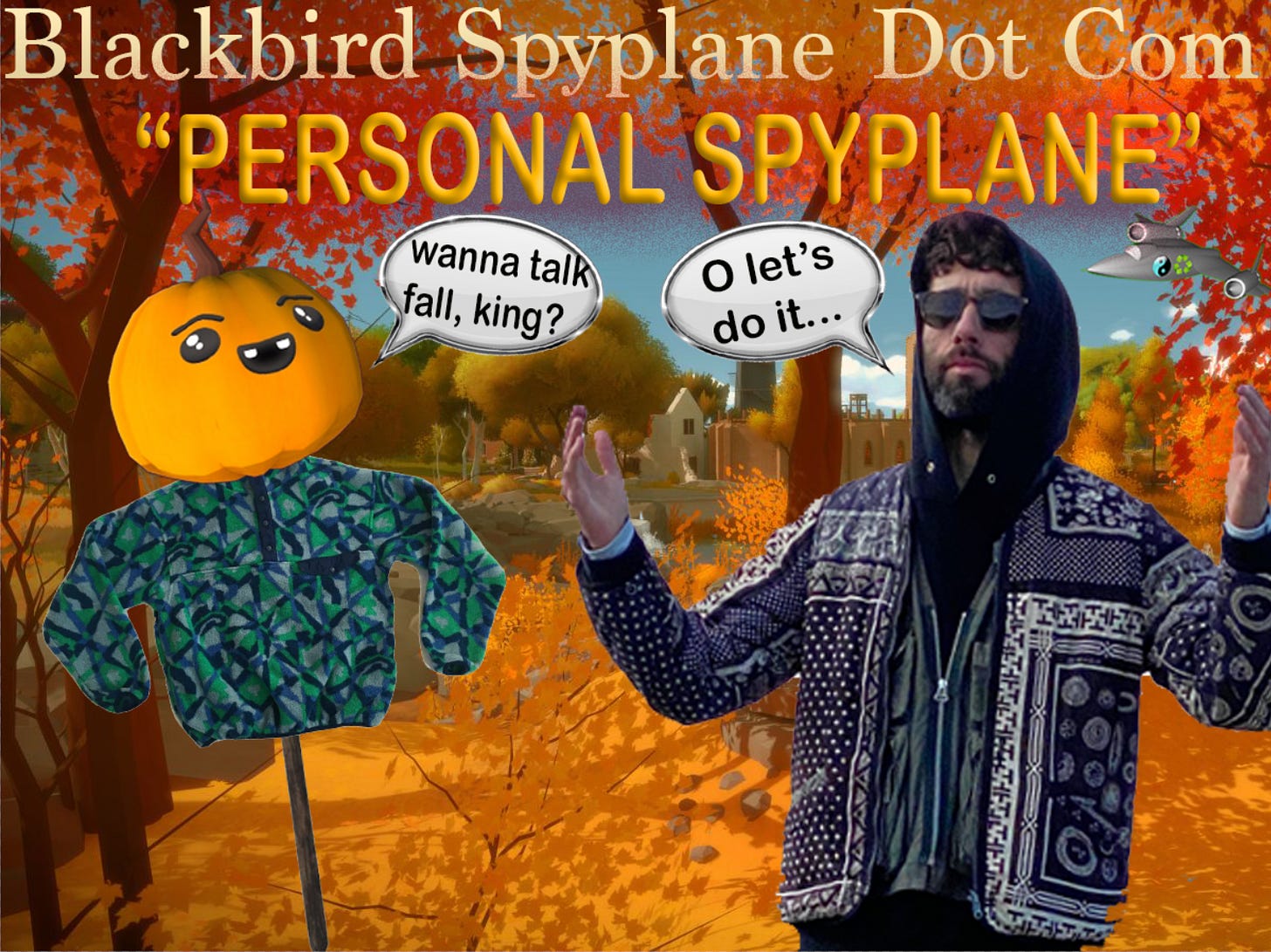 Wow: It's September. The trees r starting to DRIP … Thicc gourds are bursting from the soil & looking like a whole snack … Yellow-rumpled warblers, geese and swifts are MOBBING SOUTHWARD to warmer climes…

Amid all this change, 1 thing remains constant: U have burning jawns-related questions & Blackbird Spyplane — the no. 1 source across all media for "unbeatable recon" on dope under-the-radar joints — has Mach 3+ answers.

Welcome to the latest edition… of "PERSONAL SPYPLANE."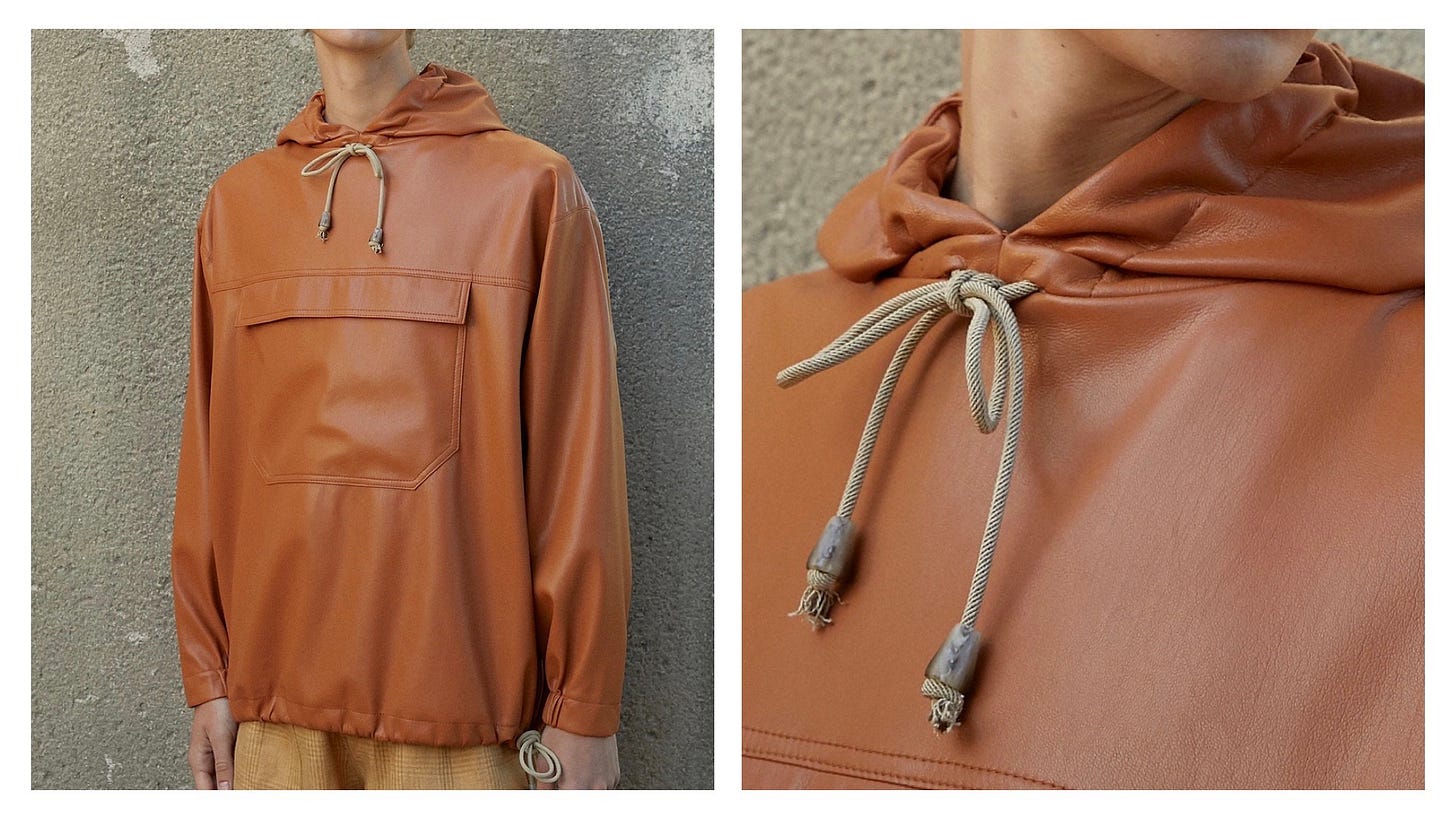 "Does BBSP have any good vegan-clothing recommendations?" — @mattlbrnche
Here at Blackbird Spyplane we salute our brothers & sisters in the animal-rights movement — it's "F**k Animal Ag" all day on this side, and although we r not a fully vegan under-the-radar-joints newsletter we ARE always on the lookout for fire cruelty-free jawns because animals r divine beings & it is cool as s**t to lessen their suffering under capitalism whenever possible !!

Budapest-based Nanushka make a bunch of vegan-leather women's joints you can see here (including a "statement" puffer that a lot of ppl got photographed rocking in major metropolises last winter). Meanwhile Nanushka's men's line includes the highly vibey "burnt orange" vegan-leather anorak above, which is a super-tight option for fall… and Nanushka's stuff is on sale right now so this s**t is a clear win coming and going…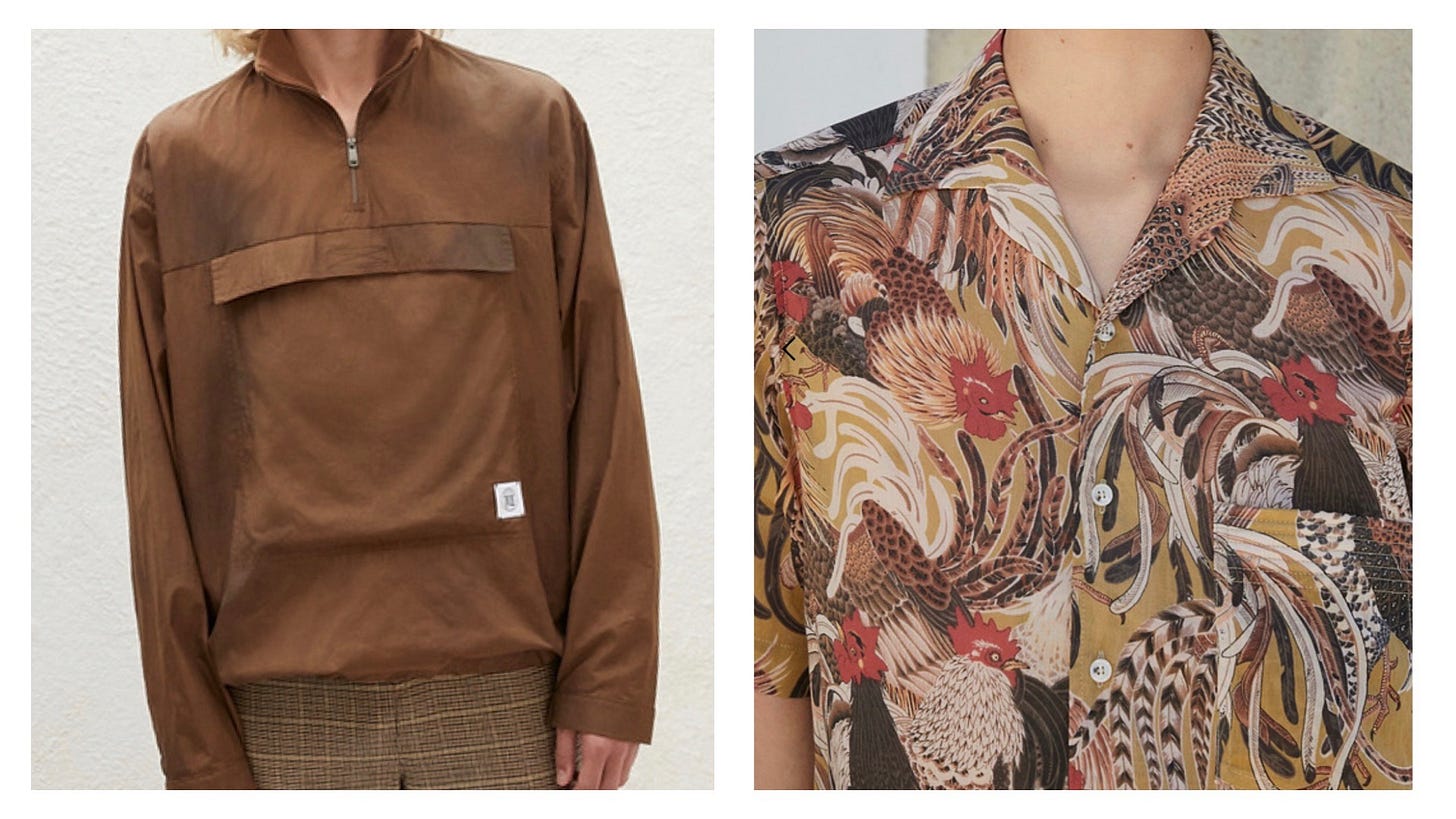 While yr at their site u can peep many other non-vegan-leather on-sale slappers including the brown 1/4-zip windbreaker above left & their "le coq" camp shirt, above right in case u want added ammunition in the battle to get Throwing Fits to share yr fit-pic on IG 😉 …
***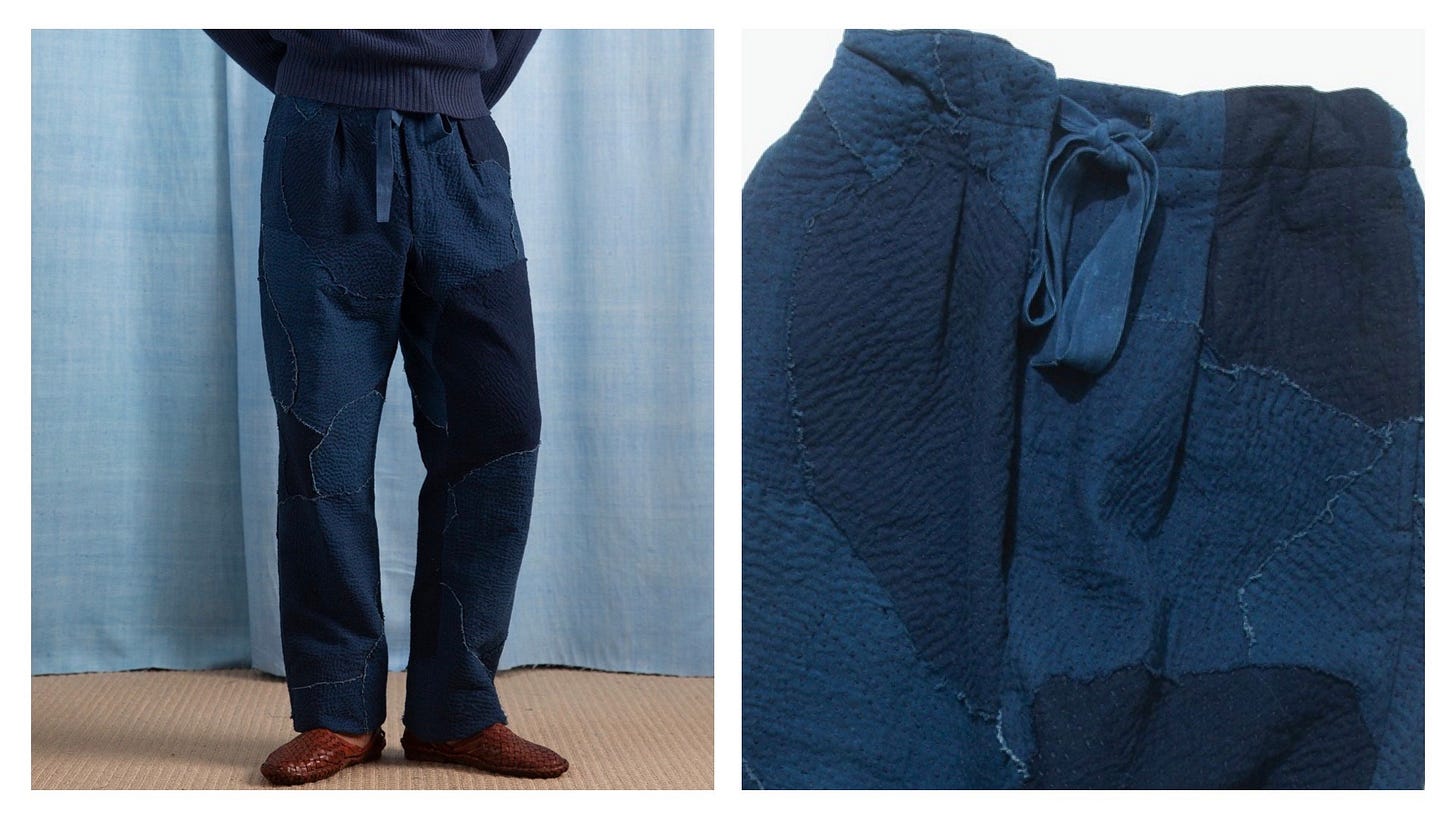 "Got anything similar to the 18 East Gorecki pants?" — @spistillo
This is a very good question for 2 reasons — not only r Goreckis sick but whenever they drop they sell out so fast they r VIRTUALLY UNCOPPABLE!! Antonio holler at us baby !!!

The most intuitive approach in hunting down a Gorecki alternative is to look at other popping brands with their own takes on military-style pants (for instance, we f**k heavy with OrSlow's "easy cargo" pants)…

But let's get Mach 3+ here and ask ourselves, "What r the 3 major non-cargo attributes that make Goreckis so popping??"

1. The soft Indian-spun fabrics,
2. The roomy fit,
3. The chill drawstring-beach-pant undertones

All 3 of these virtues converge in some wildly beautiful pants we spotted last week, which just went up for sale yesterday. They're part of a capsule collaboration between NYC's Stòffa and India's 11.11, assembled from dark-indigo fabric discards — using the Indian kantha technique, for an effect similar to Japanese boro / sashiko: "textile remnants are sewn together to form a new pattern" & then embroidered with contrast stitching…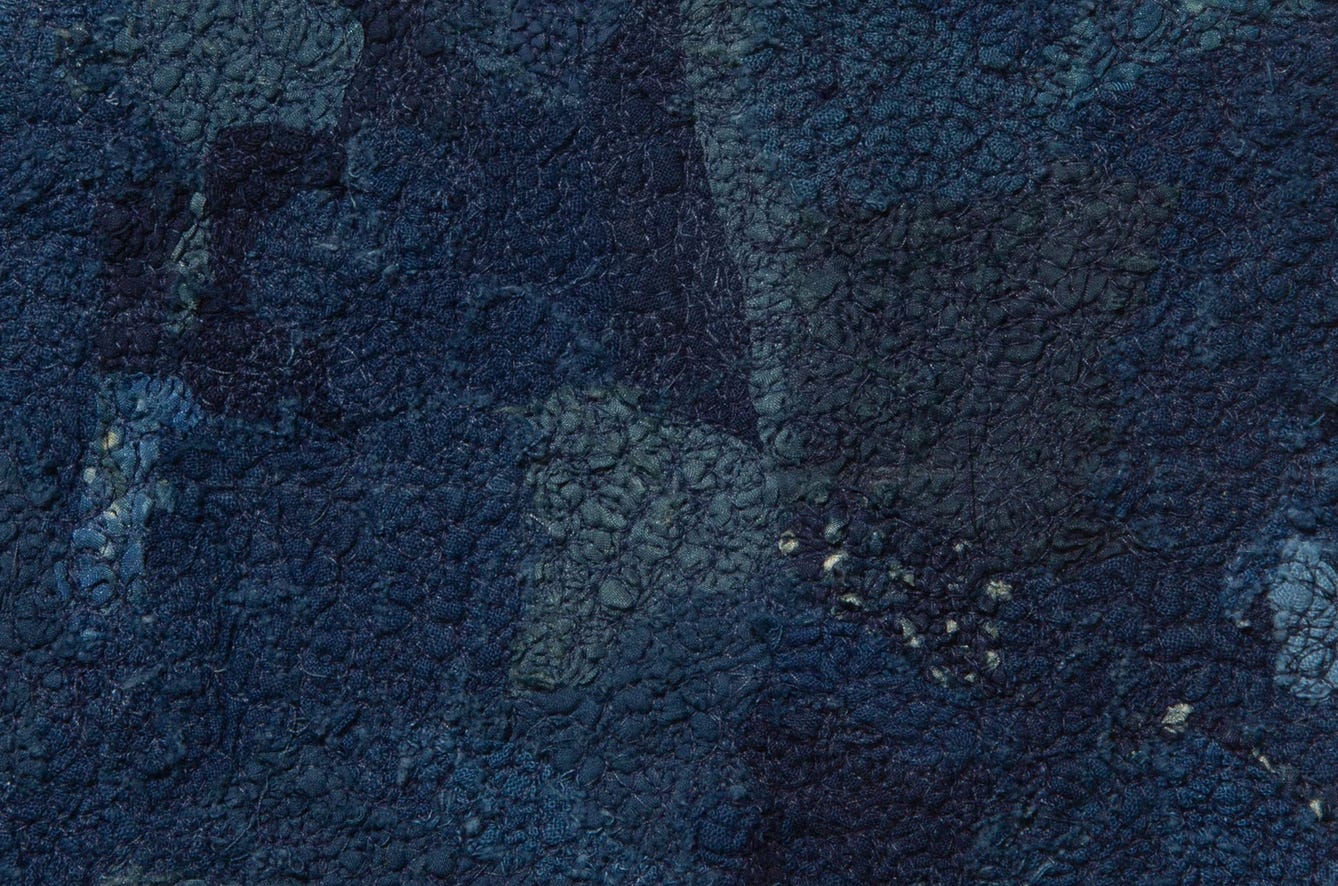 There's also a nice pair of lighter-hued kantha box-pleat trousers for sale, some shirts & also 2 coats made from a technique called chindi, (pictured above) meaning "torn cloth," in which "small fragments from industrial textile waste or, more commonly, household fabric remains" are collaged together into new fabrics.

BBSP Homey / Correspondent Lawrence Schlossman saw the chindi joints IRL in New York and reported back, "Bro this s**t is INSANE in person." (Which it should be 'cause it's not cheap.)

Stoffa x 11.11.'s "Edition 002" pants r available to order here from now till October 3.
***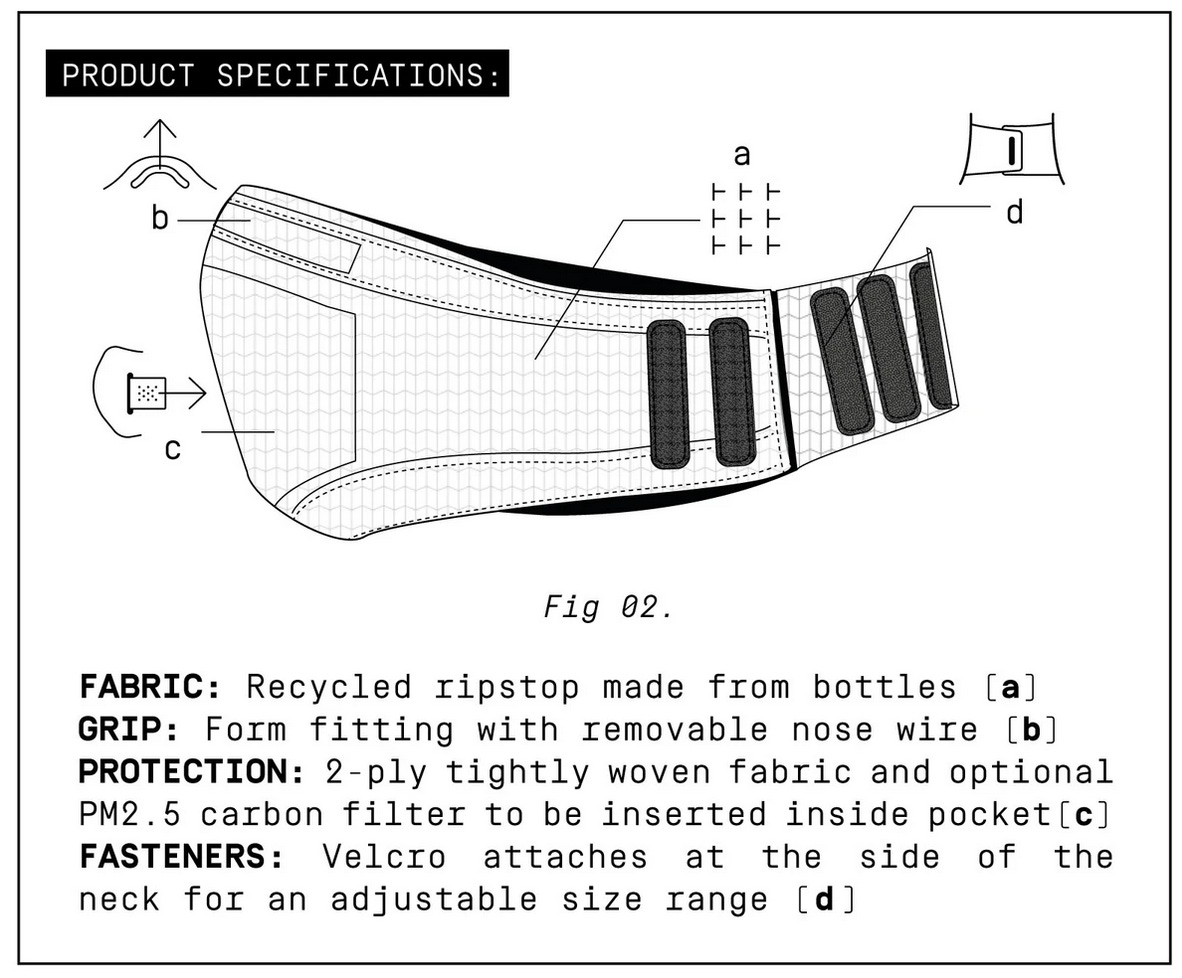 "I need those YEAR 2045 face-masks… Any next-level mask recs?" — friendo
This question popped up a few days back in the Cla$$ified SpyTalk chat room — our new top-secret location where "unbeatable readers" do "unbeatable crowdsourcing" and put each other on to dope s**t behind the paywall.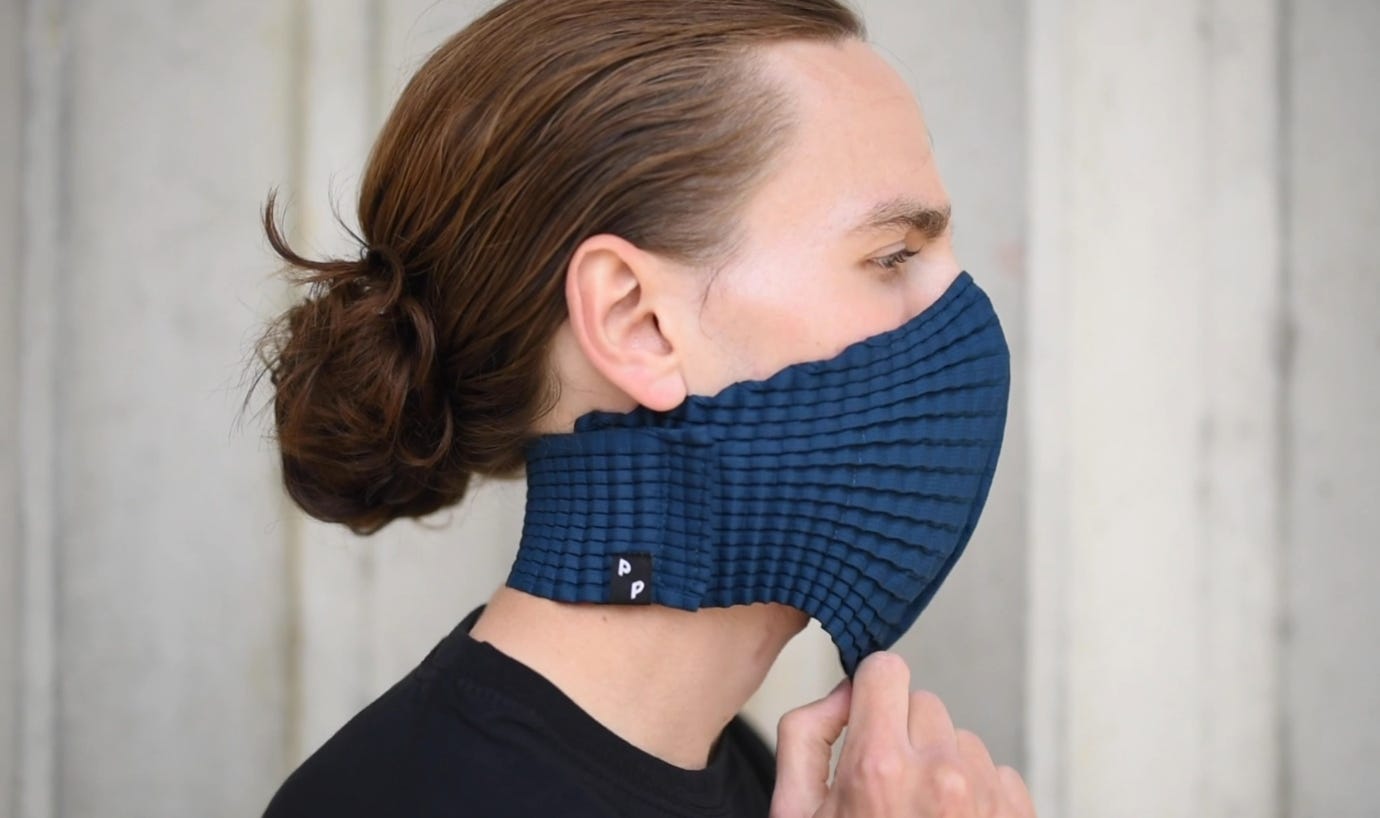 In response, BBSP copilot Erin tipped off the chat 2 a WILD NEXT-LEVEL STUNNER from Petit Pli, designed by a UK-based aeronautics engineer and cut from "recycled ripstop" made out of used bottles… These are on some Issey Miyake HYPER-PLEATED s**t....

The first two batches of Petit Pli's masks sold out but u can still order a couple colors in the latest preorder, which ships end of September. (And don't let the fact escape u that if u were in the "SpyTalk" chat you would have known this earlier!)
***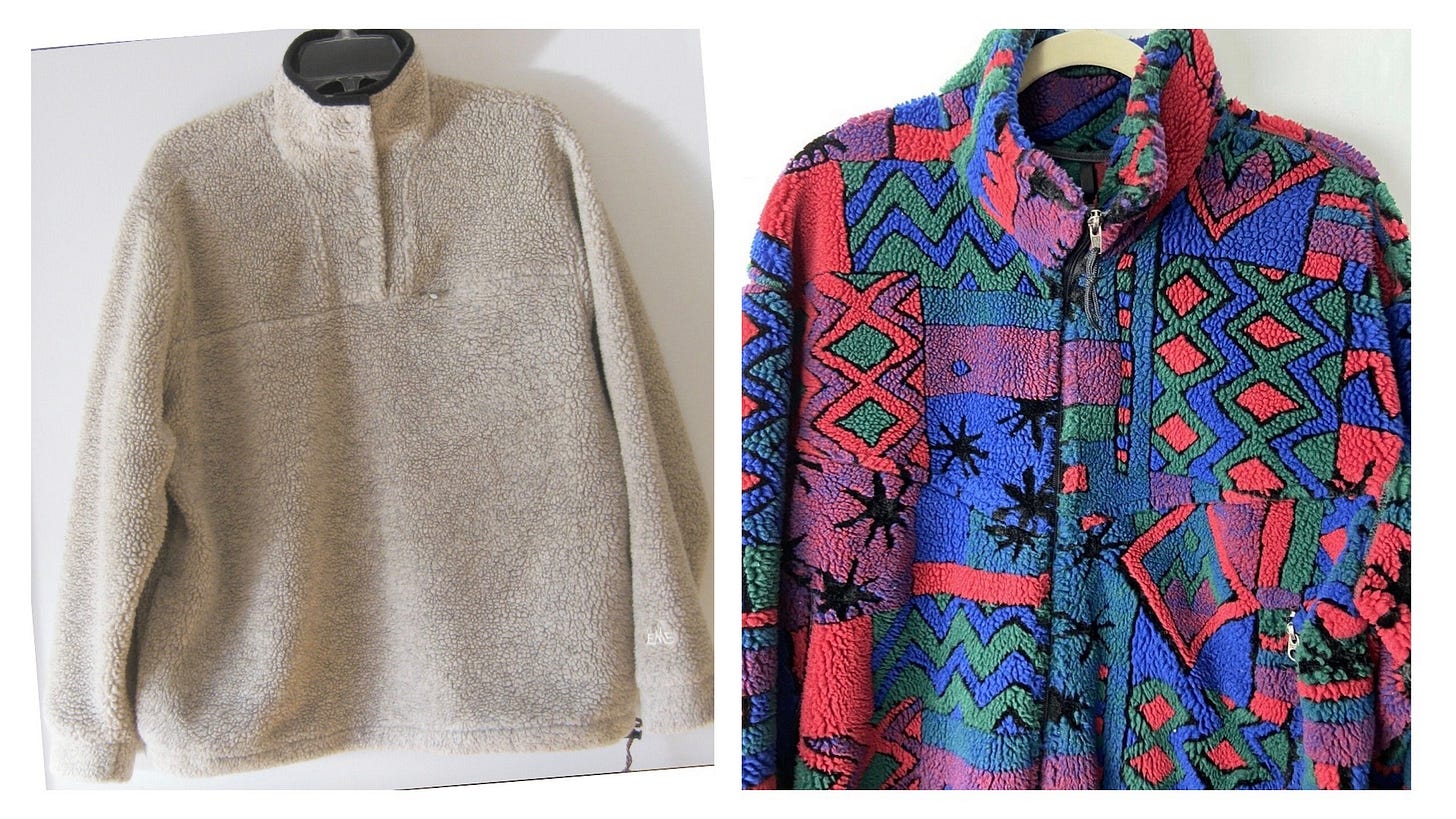 "why do outdoors brands use so much polyester? seems self-contradictory" — @reubenbahramjonah
Materials like polyester make sense for GORP JAWNS because they're light and dry off fast, but more conscientious outdoors brands have long attempted to acknowledge the contradiction between loving Gaia & using industrial synthetics whose production hurts Gaia.

For instance: in-house resale programs (like Re-System, from Arc'teryx Veilance, whose creative director we interviewed here last week); upcycling techniques (we've written about how L.A.'s Suay Shop re-sews trashed Patagonia garments into new pieces); and sourcing "more sustainable" materials, e.g., plastic bottles recycled into things like fleece & the masks we shouted out above.

The bottom line, though, is that this type of s**t can only ever go so far / always risks perpetrating some amount of "greenwashing" marketing-tomfoolery — which is why here at BBSP we will NEVER STOP RIDING FOR SECONDHAND GORP!!

To stick with today's autumnal theme, we're taking this question as an opportunity to salute one of our favorite sources for vintage vibey Made In USA fleeces that r dope and cheap because no one is checking for them: Eastern Mountain Sports. (Vintage EMS is sick, period, but we'll save a fuller deep-dive for another time.)

The oatmeal joint top left is here; the unreal '90s-ed-out pink-and-blue sherpa top right is here …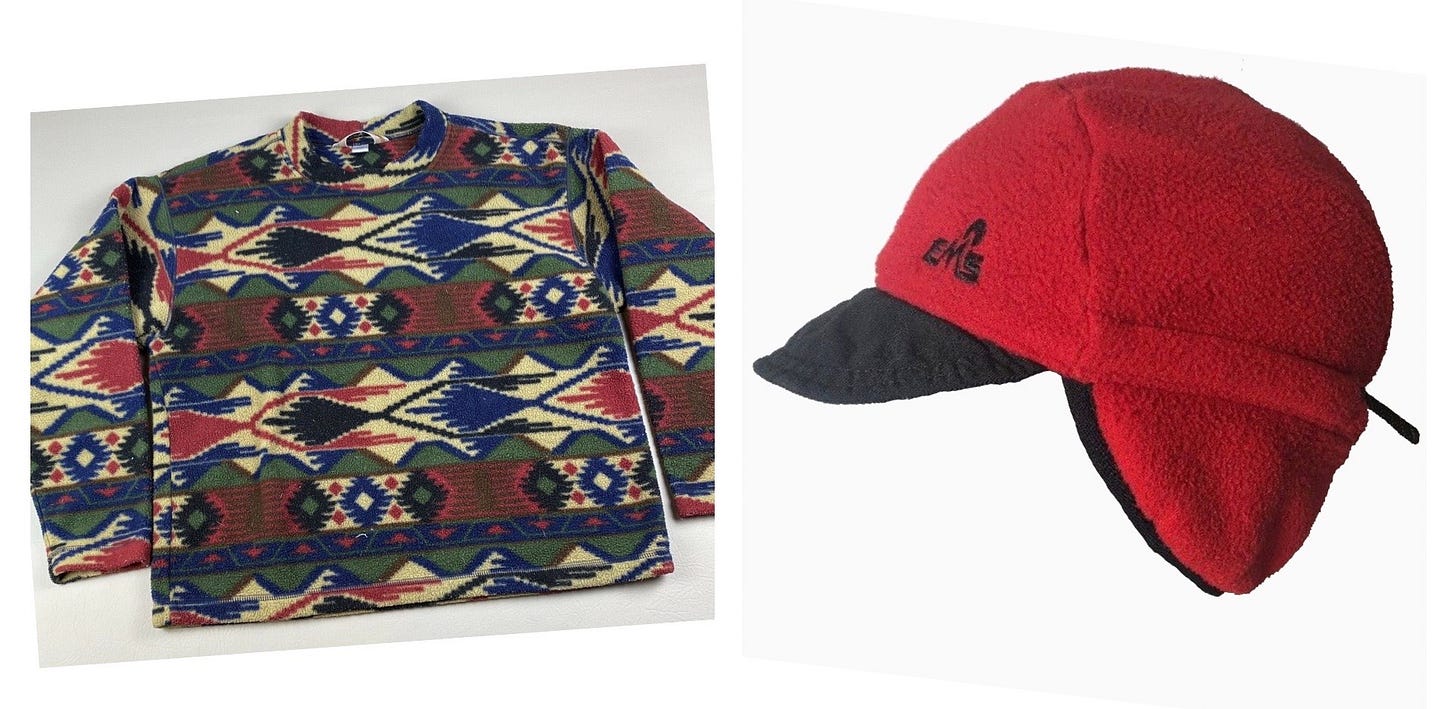 This "Aztec" pullover is here, and the red hat is here.

We threw links to a bunch more USA-made vintage EMS fleece jawns — including some fire shorts & TOUGH XL joggers — into the Blackbird SpyMall.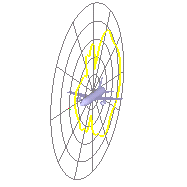 Share this newsletter with an elite tranche of 50-75 of yr wisest / most-respected friends, and brush up on our LIFE-IMPROVING "UNBEATABLE RECON" at BlackbirdSpyplane.com.