Discover more from Blackbird Spyplane
Your No. 1 source for style, culture, & "unbeatable recon"
Can u still rock tie-dye in 2020??
+ the BEST outdoors brand, FIRE Melissa Etheridge merch & more CUSTOM recon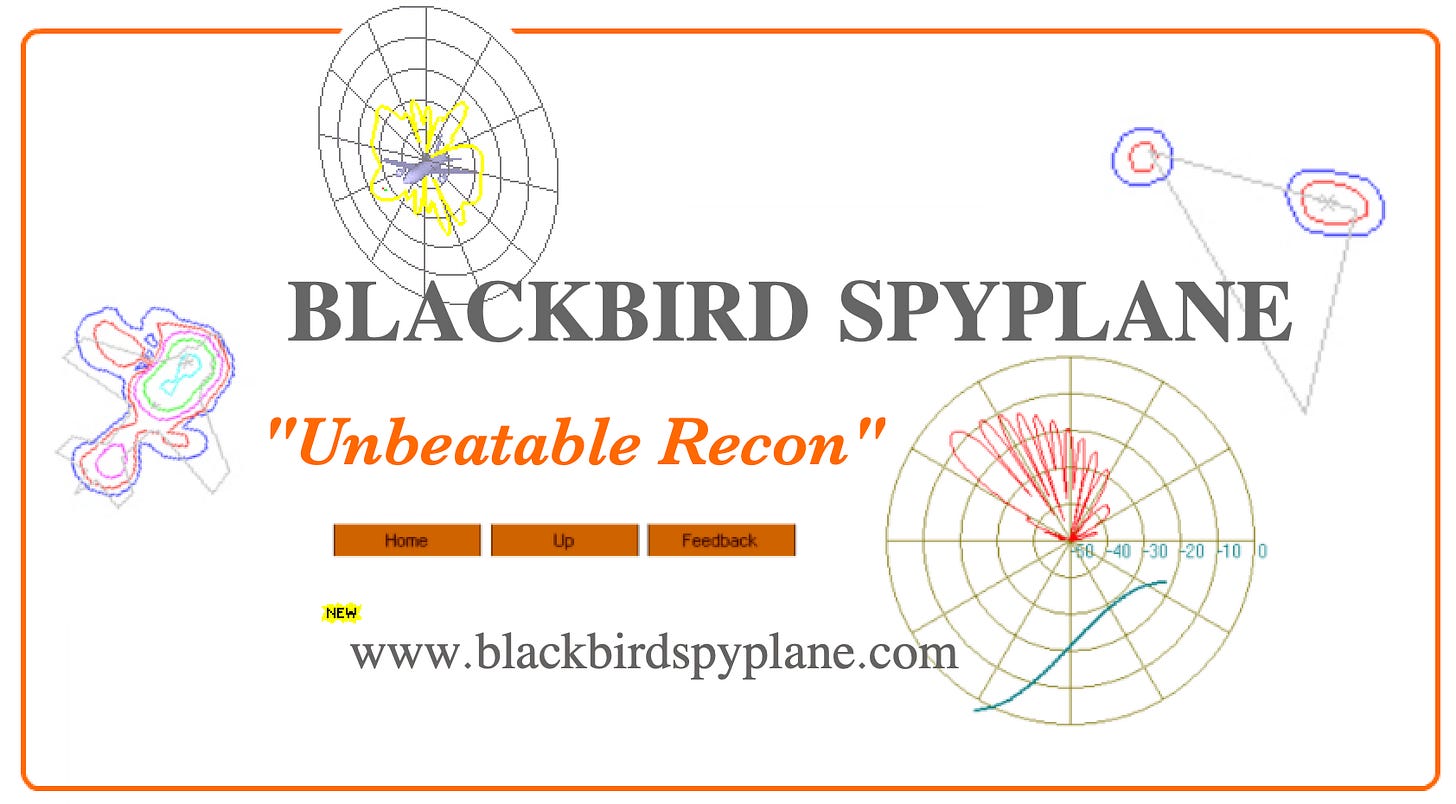 Today's the 2nd installment of PERSONAL SPYPLANE, our new series where u send us requests for "unbeatable recon" on dope under-the-radar joints — and we zap yr cerebral cortex with a precision-targeted swarm of CUSTOM INTEL.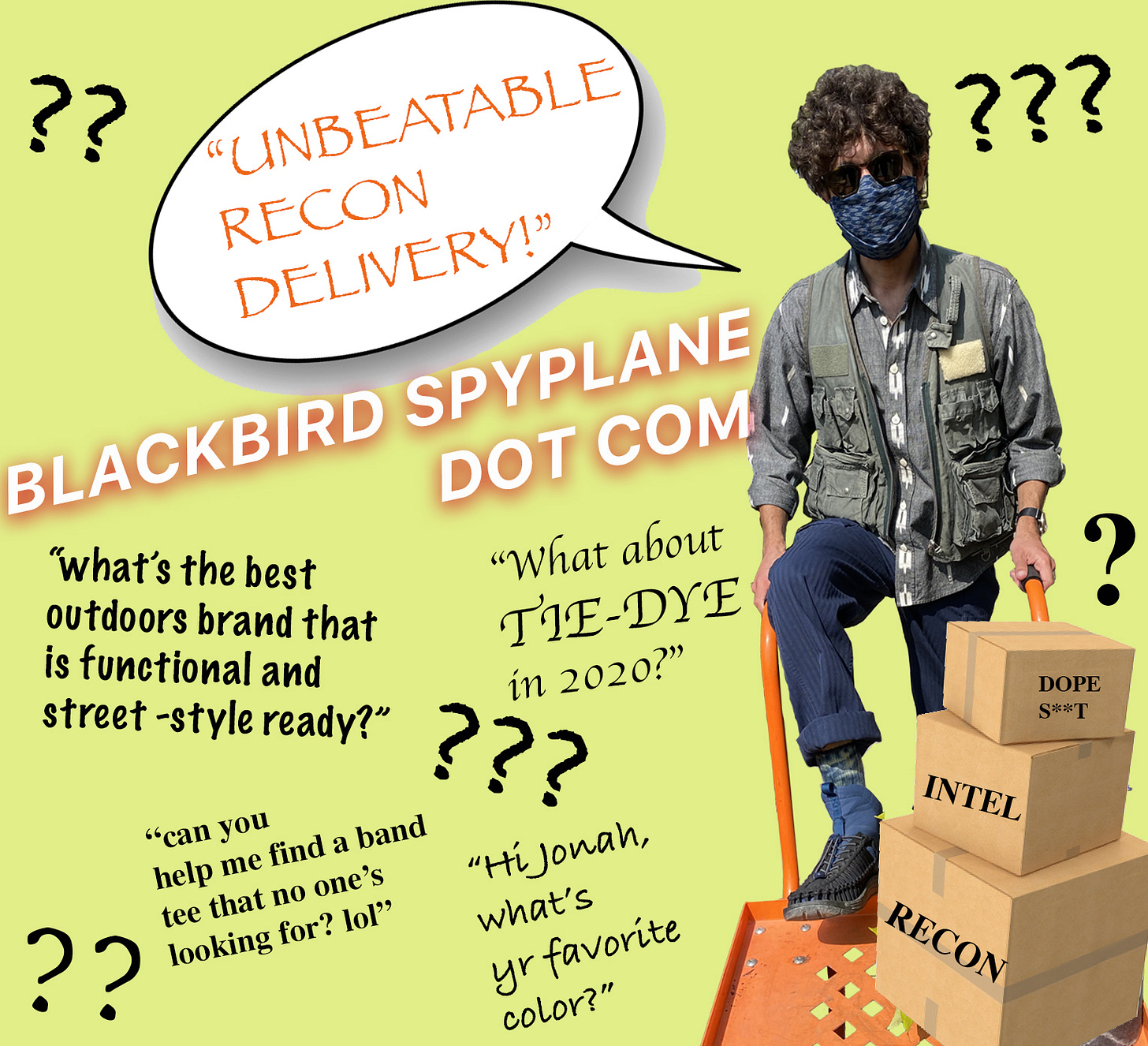 1. "What about tie-dye in 2020?" — @jennyfromlebloc

While most of u drilled into specific queries, other readers posed wide-open philosophical koans like this one. The current vogue for tie-dye has been going about ~3-4 years now, and while cool ppl are still making cool stuff at this point, it's also super easy to cop uninspired joints from smaller brands trying 2 chase a "hot market" & to find mass-produced junk from like Target & Urban Outfitters — not to mention from "Swagless Timeline Brands" (STB's), i.e. companies that seem to exist exclusively in ads on the TL selling, like, "the ultimate skinny tie-dye joggers as voted by the editors of Gear Patrol" 🙅‍♀️🙅‍♀️🙅‍♀️.

Here's our basic take: If u have a cherished tie-dye piece that someone put time & love into, and wearing it brings light to yr day during these helltimes, then please let that freak flag fly, now and forever. But if it's a by-the-numbers joint that some algorithmic part of yr brain compelled u to cop in a reflexive attempt to get yrself "on trend"… maybe sell it and donate the proceeds to Nithya Raman because yes, u played yrself but at least this way some good can come out of the debacle.

That's a point about the market — it's not a knock on tie-dye's idiosyncratic, hand-made appeal. With that in mind, lately we've been looking at the subtler & more-natural end of the tie-dye spectrum … e.g., a few weeks back we called out the enzyme-wash garments from the sick Australian line MAN-TLE, which fall into this category… relatedly, we like the understated "tea-stained" motif on the fire vintage L.L. Bean parody Grateful Dead shirt Ezra Koenig told us about back in May… and along similar lines there's something appealingly muted about Kapital's latest bunch of gray "Ashbury-dyed" joints, pictured below left, which Mannahatta has a bunch of…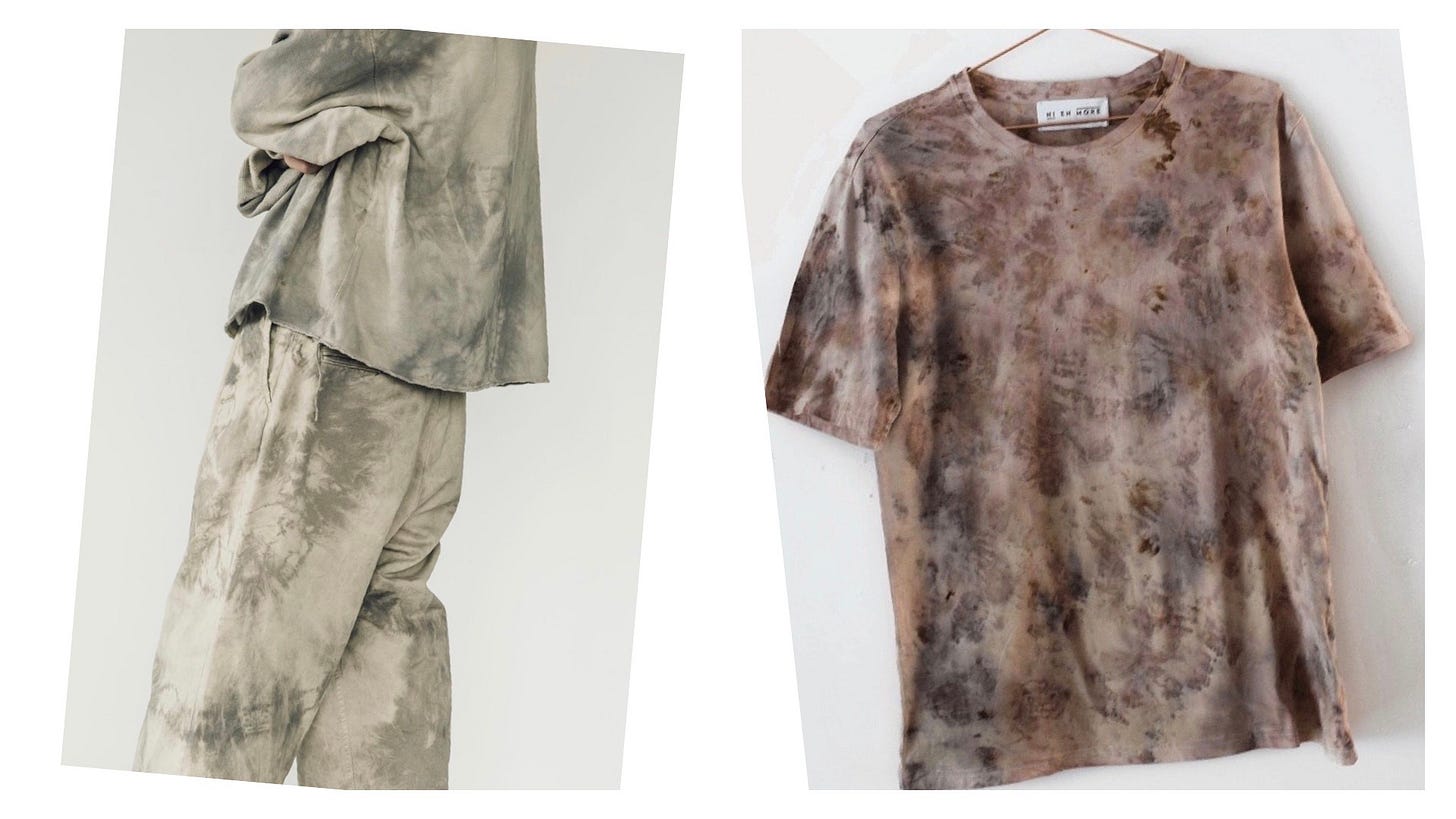 Further below the radar, & more colorful, check out the tees from the Mexican-Norwegian non-profit Ni En More, pictured above right, which employs women in Ciudad Juárez as part of a broader program of activist work there. During a trip to Mexico City last Fall, Erin bought one at the Luis Barragán-designed shop/cafe/library Tetetlán — Ni En More's hues derive from a variety of GOURMET-FREEGAN-ASS pigment-sources such as black beans, onion skin, turmeric, eucalyptus and "flower compost," which gives the tees their own distinct look…

Another good move is 2 seek out tie-dye designs that stray from ubiquitous spiral & striation patterns and toward big, blocky monoliths of color… Back in 2015 we climbed a staircase up off a Kyoto side-street into the workshop / atelier of Japanese natural-dye masters Tezomeya, who turn things like tree bark into rich shades of black & pomegranate skin into vibrant yellows.

Their loopwheel organic-cotton shibori tees, one of which is pictured below left, are super dope, especially the ones with two-tone motifs / contrasting sleeves…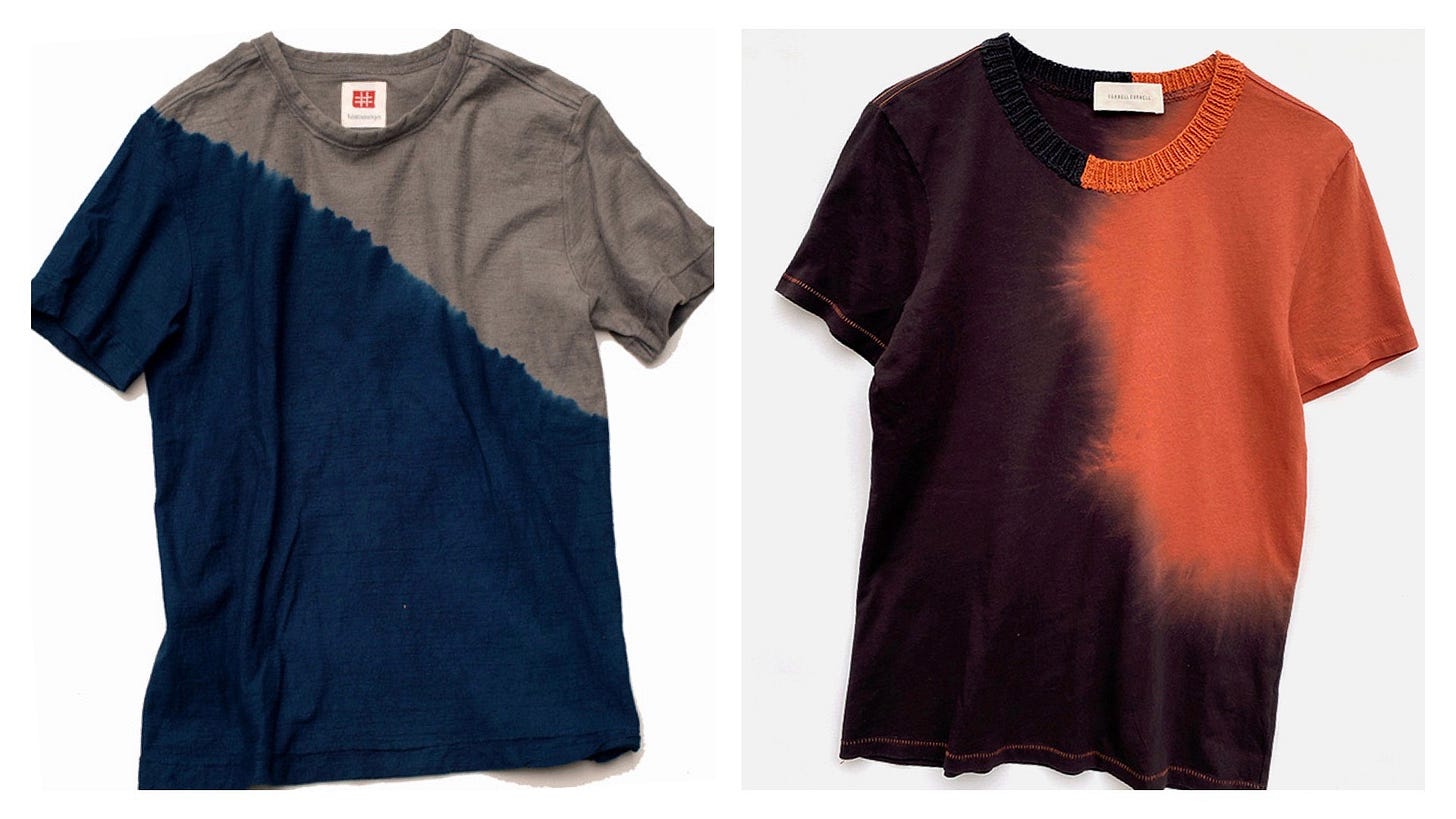 And NYC's Correll Correll sells U.S.-made unisex shibori shirts, like the "Star Knit" tee above right (also available in a couple other colors, with a cotton-rib hand-knit collar for extra PANACHE… the low-key dye effect on their "Sun & Moon" tees is tight, too. A bunch of these r on sale to boot.
***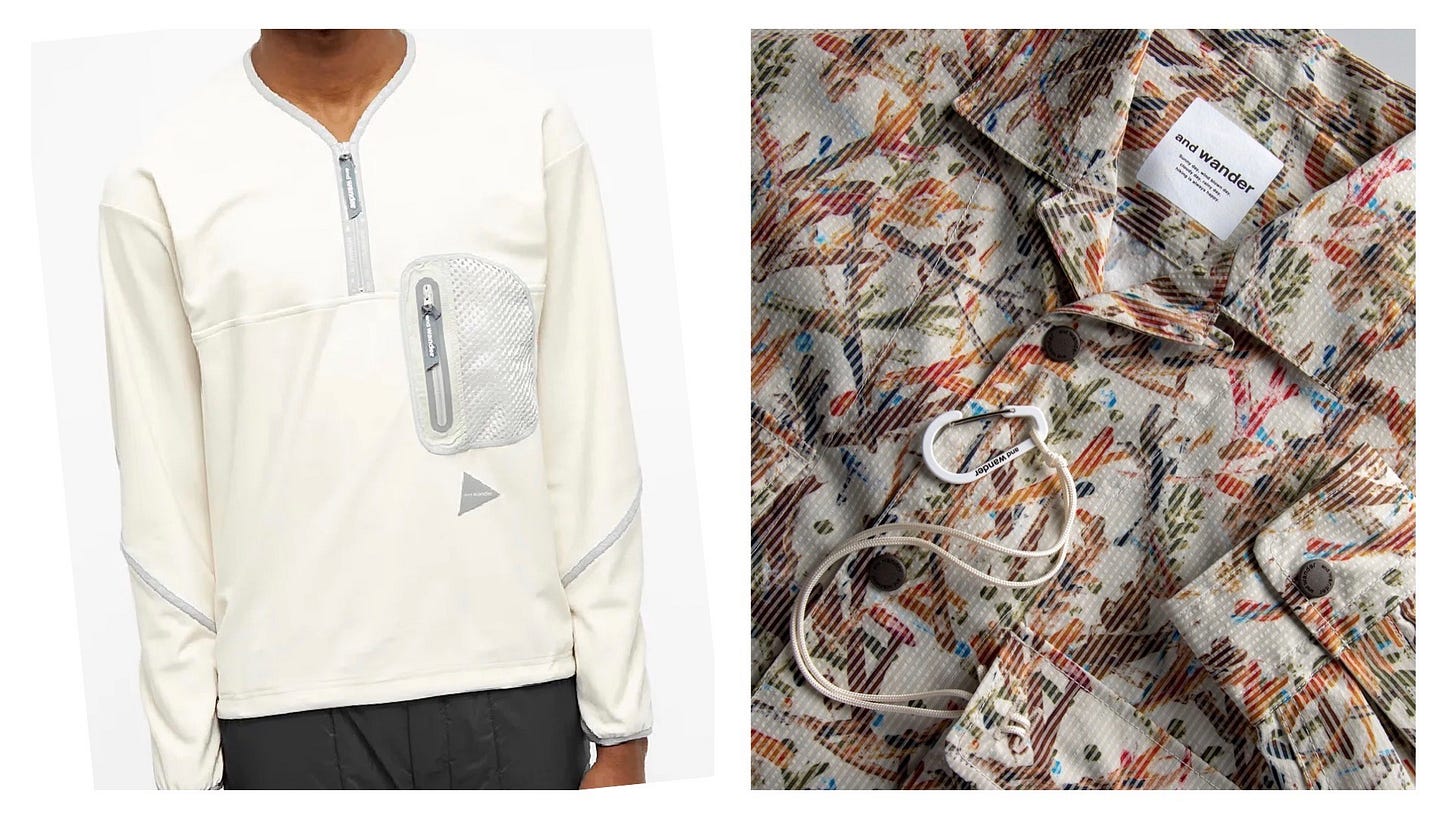 2. "What's the best outdoors brand that is functional and street-style ready" — @mattlbrnche

And Wander ALL DAY, no question. I'm wearing the 1/4-zip pullover pictured above left (in brown) as I type out these very mind-gems, and between the reflective diagonal piping on the sleeves, the silver-mesh chest-pocket & the triangle logo, yr boy looks like the goddamn GORP Captain Kirk helming the SPYSHIP ENTERPRISE ??

If yr unfamiliar, And Wander was founded by 2 former Issey Miyake designers, Keita Ikeuchi and Mihoko Mori. Their s**t is made in Japan and is IMHO better than every other brand operating in what u might call the "Organic Lab Dot Zip" zone, thanks 2 their combination of colors, silhouettes, materials choices, and finishes. Their pieces have dozens of little practical details that you don't even notice until ur rocking the jawn in question and go to tug on a zipper-pull or adjust a wrist-cinching bungee and u realize how much consideration has been put into every millimeter …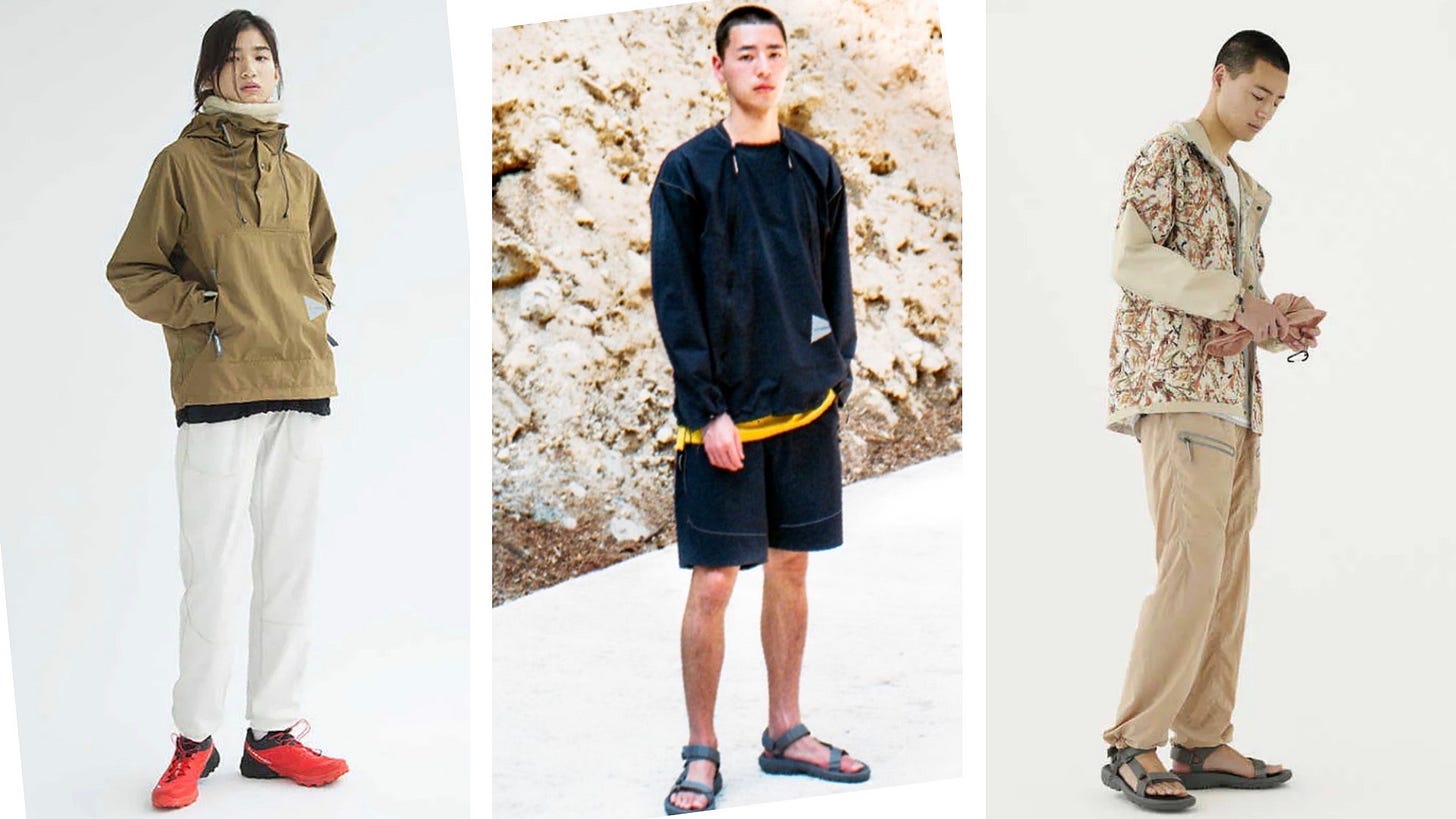 … this is NEO-GORP EXCELLENCE, god damn. It not cheap, esp. after import duties, but there's some nice stuff on sale a few places right now, including End, Slam Jam, Bodega, Nordstrom and Blue Owl …
***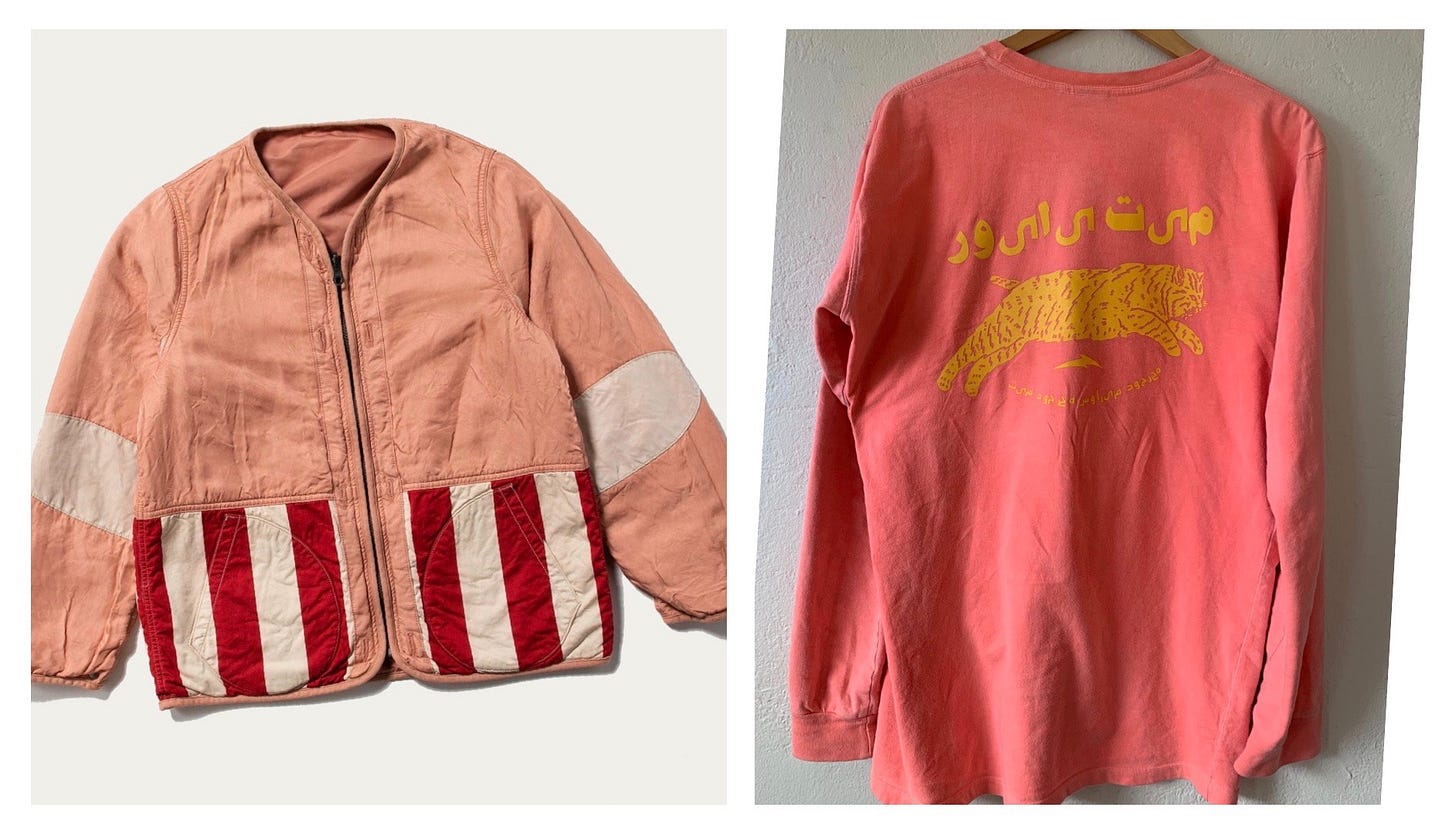 3. "Hi Jonah, what's your favourite colour" — @jacobgrsmn
Finally, a question about ME, and from a considerate Englishman, too, by the sound of it. My all-time favorite color, and Erin's, too, is blue — navy for me, and a brighter "French chore coat"-type royal for her. BUT a color I've f**ked with heavy over the past few years (maybe because I moved to California??) has been sun-faded pink, as seen on the longsleeve tee above right, from the L.A. cycling-apparel brand Team Dream — we wrote about their fantastic stuff back in May.

And the pink Visvim Iris jacket above left is a prized item in the SPYPLANE wardrobe. We copped it at Visvim Exhibition in downtown L.A. but it was overdyed with mud on Japan's Ōshima Island — a centuries-old tradition kicked off by accident when ppl there buried a bunch of kimonos and discovered that immersion in the wet earth made them look doper.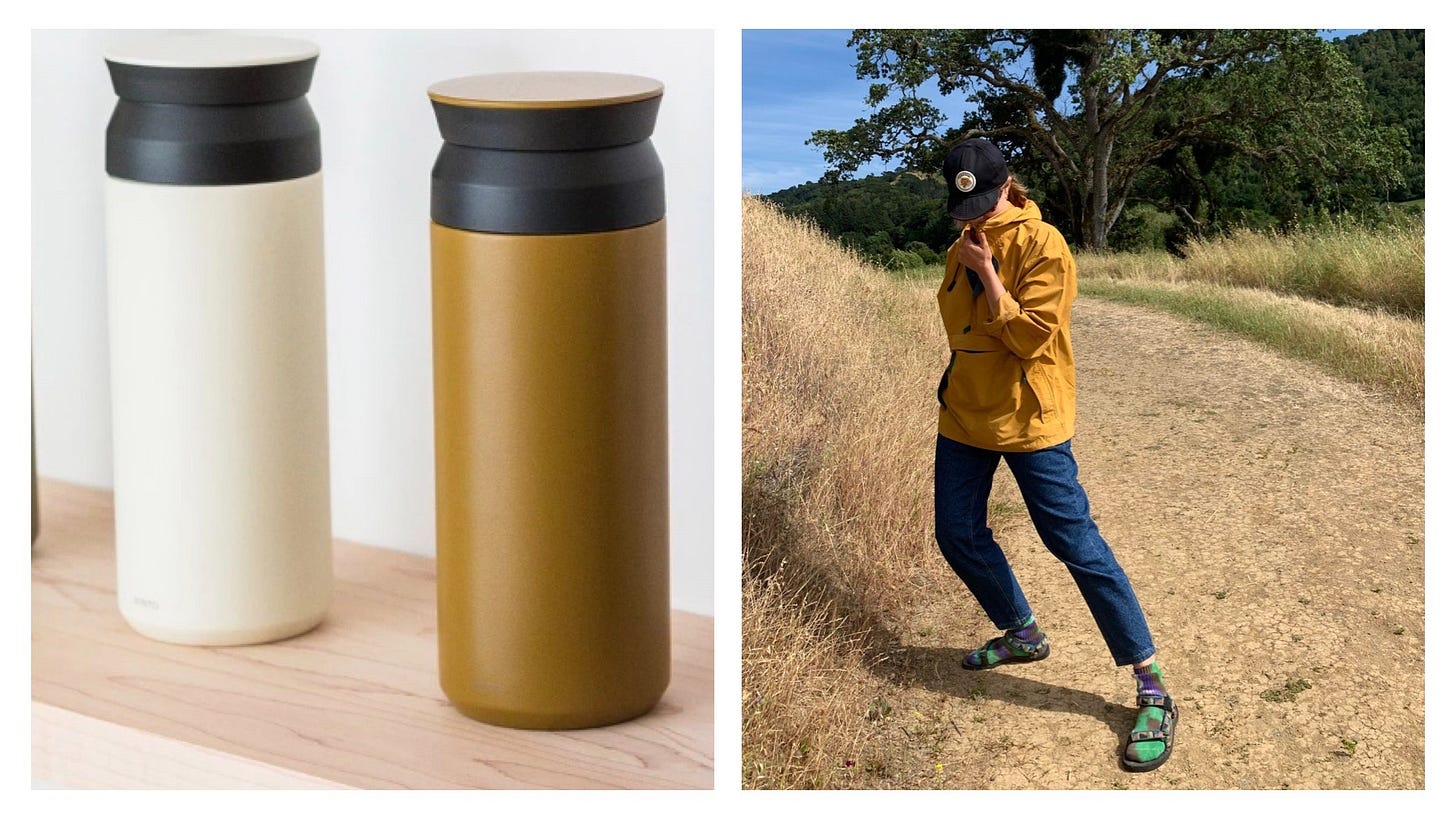 But Erin is the Spyplane Pilot u really wanna hear from because she used to be a color forecaster, works a lot with color-design in her current job and generally knows her way around sick hues. These days she's been into a color family she calls "spicy mustard," 2 nice examples of which are the brownish Kinto coffee thermos above, which she copped a few weeks ago, and this yellowish old Eastern Mountain Sports anorak she picked up a few years ago at a Salvation Army outside Philadelphia for a truly majestic $3.
***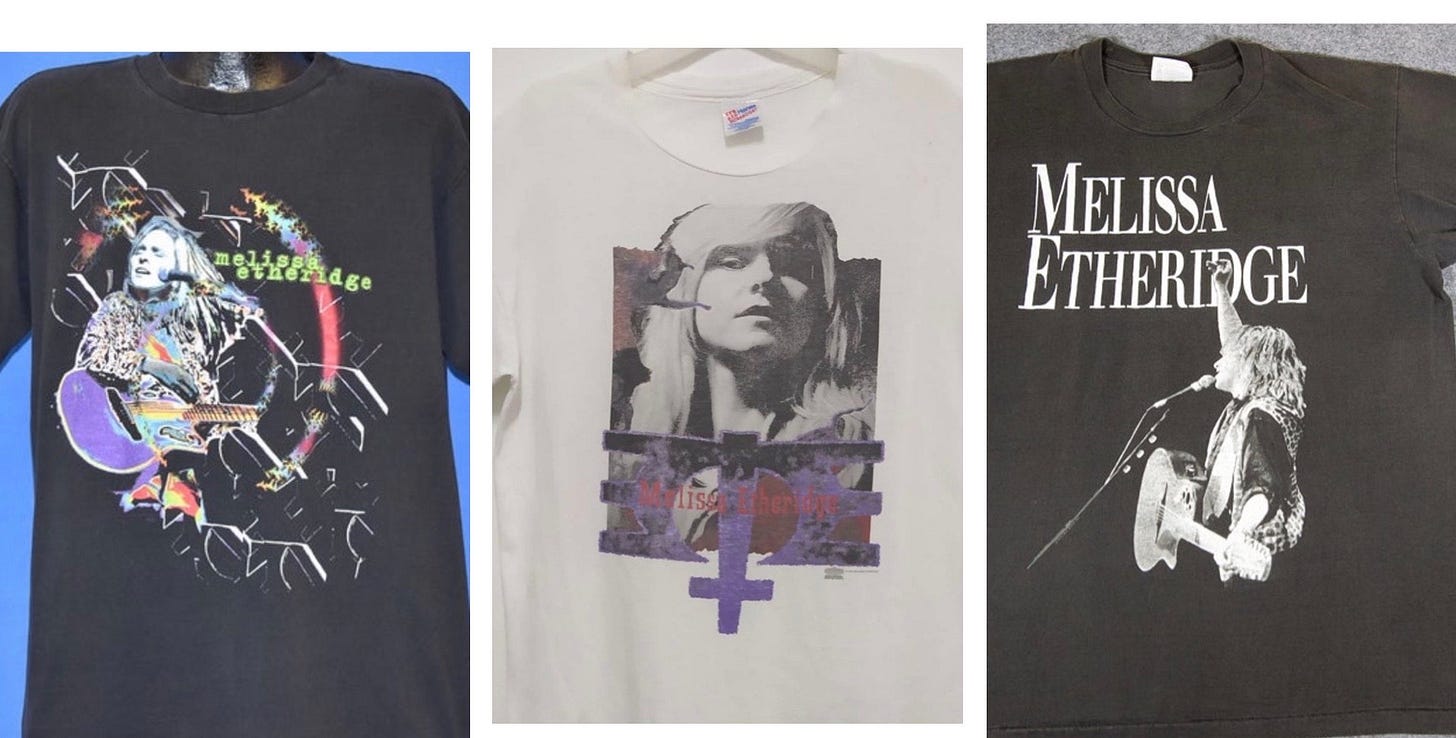 4. "Can you actually help me find a band tee that no one's looking for? lol" — @evduch

This search involved some false starts (I wish Rusted Root tees were, like, 22% cooler) but as u would expect from the Internet's No. 1 source for "unbeatable recon," BLACKBIRD SPYPLANE came thru with an "unbeatable answer": Melissa Etheridge. You don't *need* to bang with "Come to My Window," but u gotta put some respect on Melissa's late '80s / early '90s merch game…

These tees look f**king great and Travis Scott, for all his talents, isn't enough of a visionary to get papped wearing one of them, so they don't cost a lot …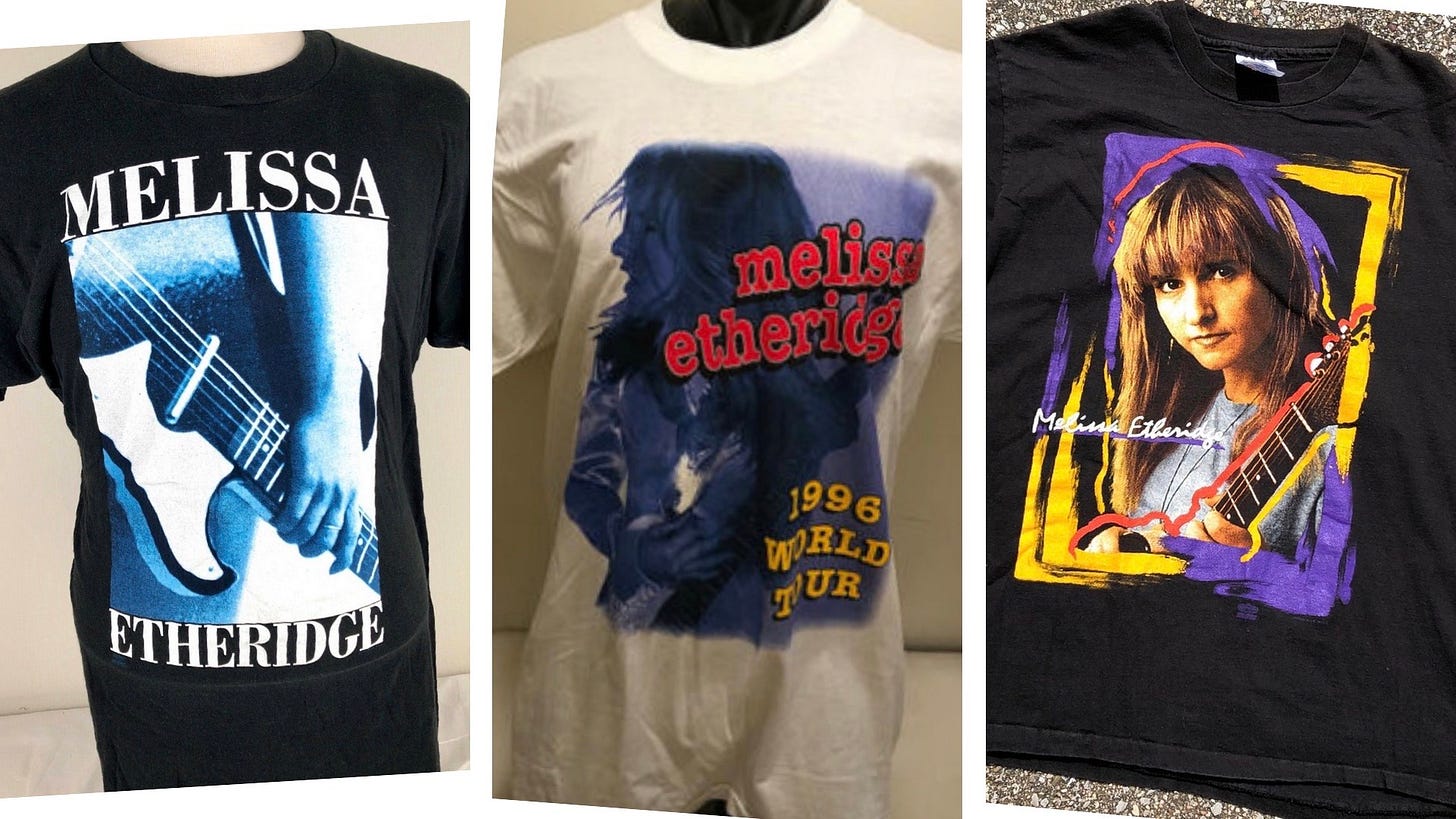 Real talk, there are many of these and they are wild flames — move fast & tag us on IG when u rock 'em!!

-TOP ROW LEFT: 1996 Your Little Secret tour tee $25 here and $65 here
-TOP CENTER: -1993 Yes I Am tour tee $68 here
-TOP RIGHT: 1989 Brave and Crazy tour tee $59 here
-BOTTOM LEFT: 1992 ME Live guitar tee $36 here
-BOTTOM CENTER: 1996 World Tour tee $27 here
-BOTTOM RIGHT: 1993 tour tee $28 here
-1989 promo tee $25 here
-1992 ME Live cowboy boots tee $35 here
-1995 tour tee $18 here.
Share this newsletter with an elite tranche of 50-75 of yr wisest / most-respected friends, and read more at BlackbirdSpyplane.com. U can find us on Instagram and Twitter too.