Discover more from Blackbird Spyplane
Your No. 1 source for style, culture, & "unbeatable recon"
A perfect jacket for fall...
+ dope environmentalist merch & other custom-recon requests, FULFILLED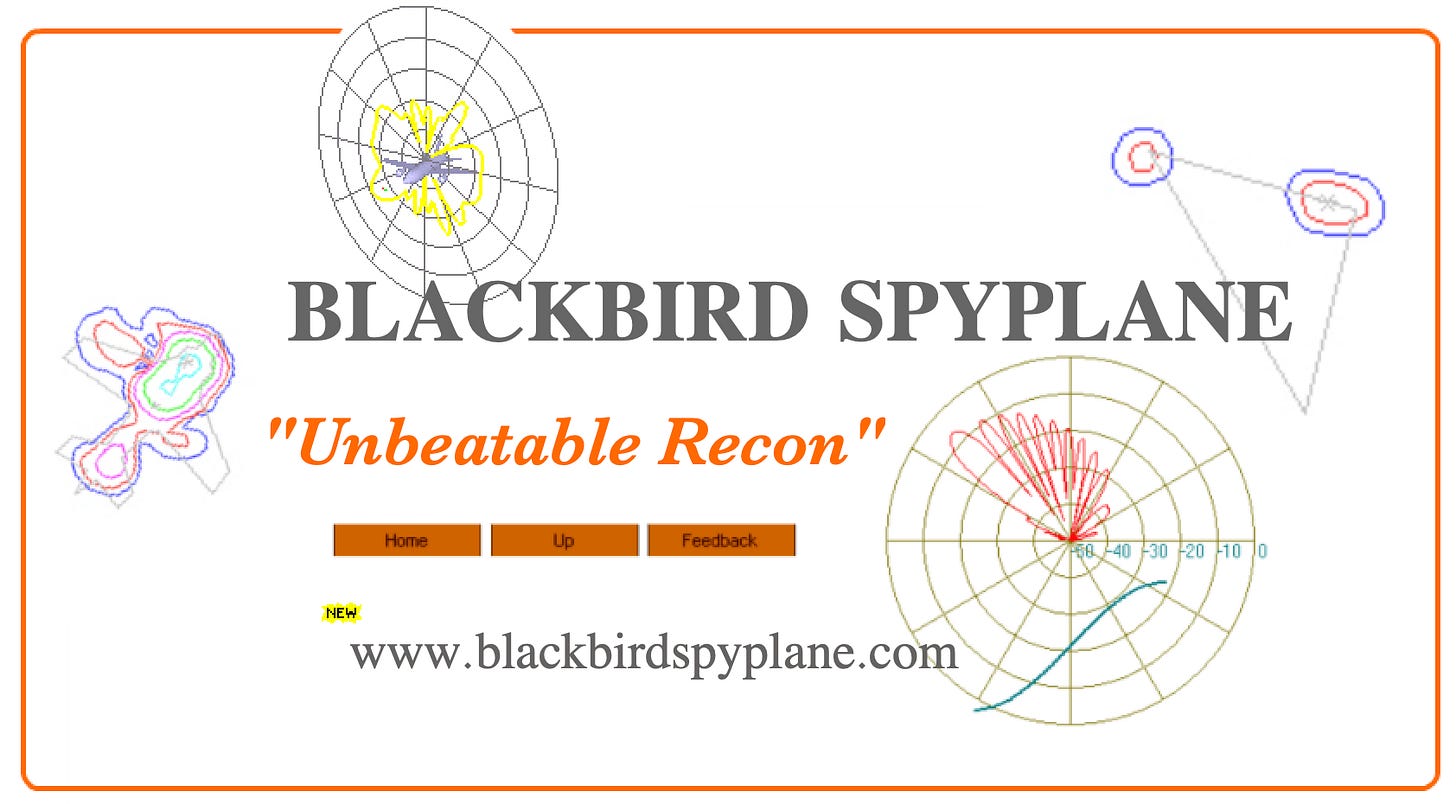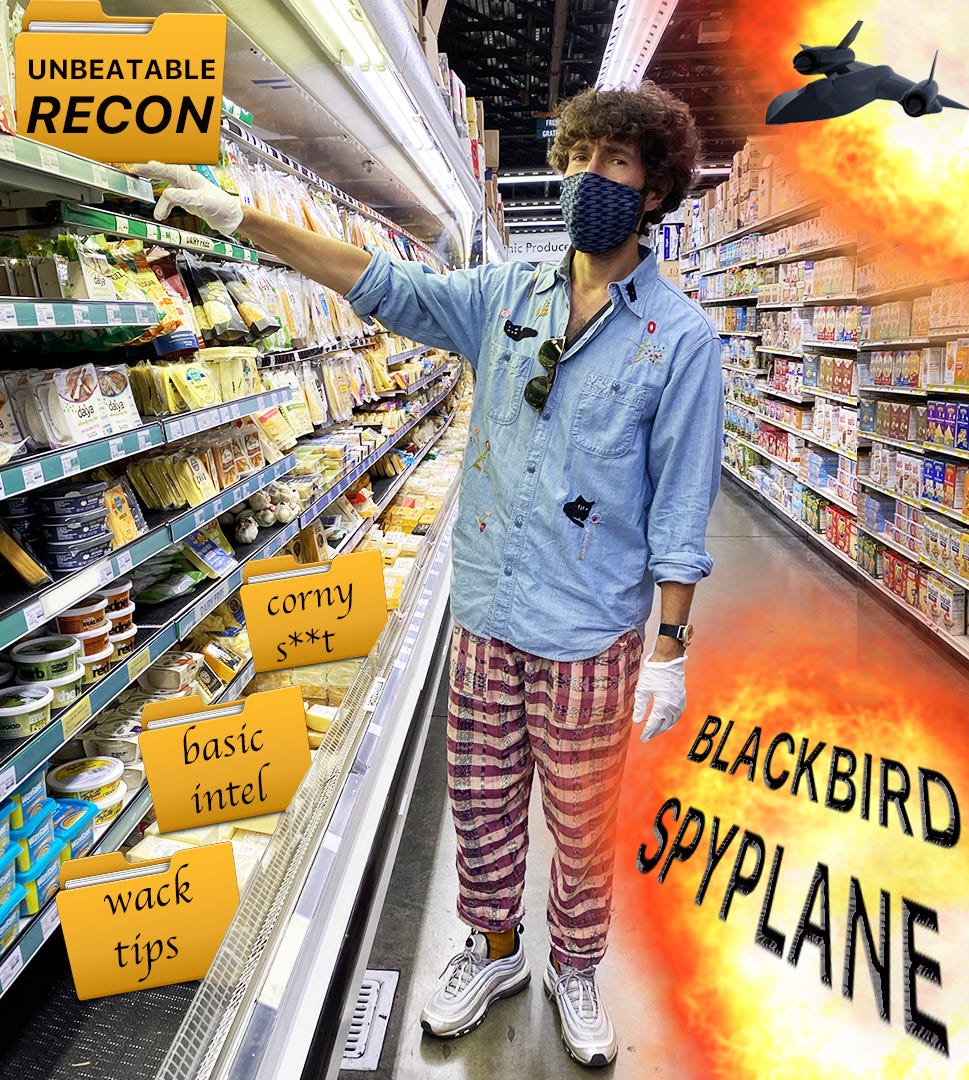 Today's the latest installment of "Personal Spyplane" — a BLACKBIRD SPYPLANE STUDIOS ORIGINAL SERIES™, from the visionary jawnspotters who brought you "Surprisingly Sick 10,000 Maniacs Merch," "André 3000: An Exclusive Interview," and "This Game-Changing Bucket Hat Got our Attention," among other award-winning posts…

"Personal Spyplane" is simple: Every now & then we do an open call on Instagram for your burning jawns-related questions… and then answer the best ones with the TOP SHELF intel you've come to know & trust from the internet's no. 1 source for "unbeatable recon" on under-the-radar joints…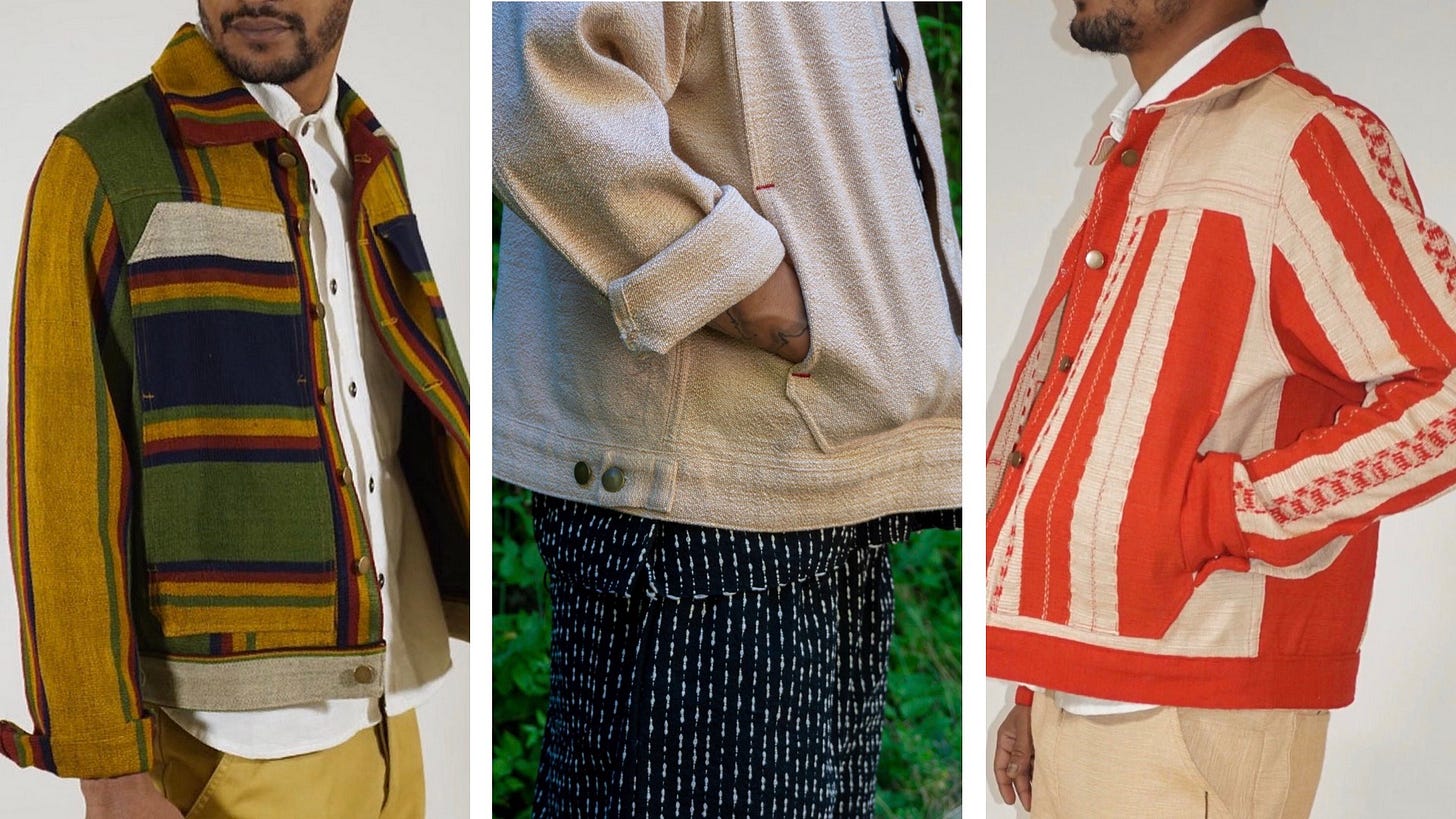 1. "You have any favorite light jackets to bust off fits with in the fall?" — @big_gamehunter_
We kind of wanted to hold off on posting about this brand until someone asked a question like, "Any cool brands that have BODE / Ace & Jig vibes but are less blown up???," because the dopeness here extends beyond jackets …. BUT:

We recently caught wind of a very cool small Portland clothing line called Graziano & Gutierrez that u might f**k with. They contract with textile artisans in Chiapas and Oaxaca who make beautiful fabrics "commonly used for upholstery or tablecloths," ship them up to Portland and then cut them into a range of unisex pants, shorts, shirts — and some particularly nice jackets, three of which are above. They do small runs in seasonal batches and take custom orders, too…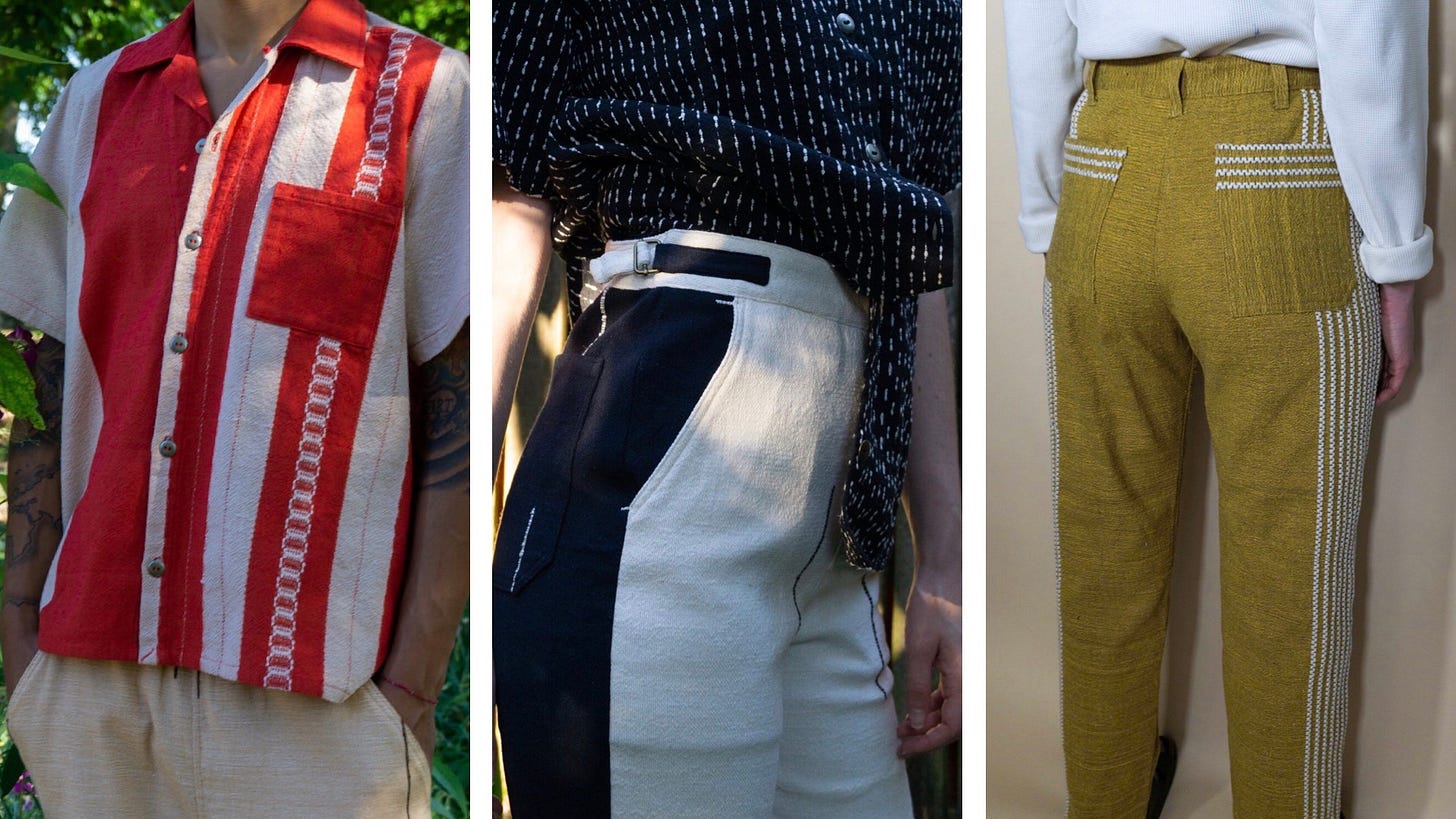 U can check out Graziano & Gutierrez here.
***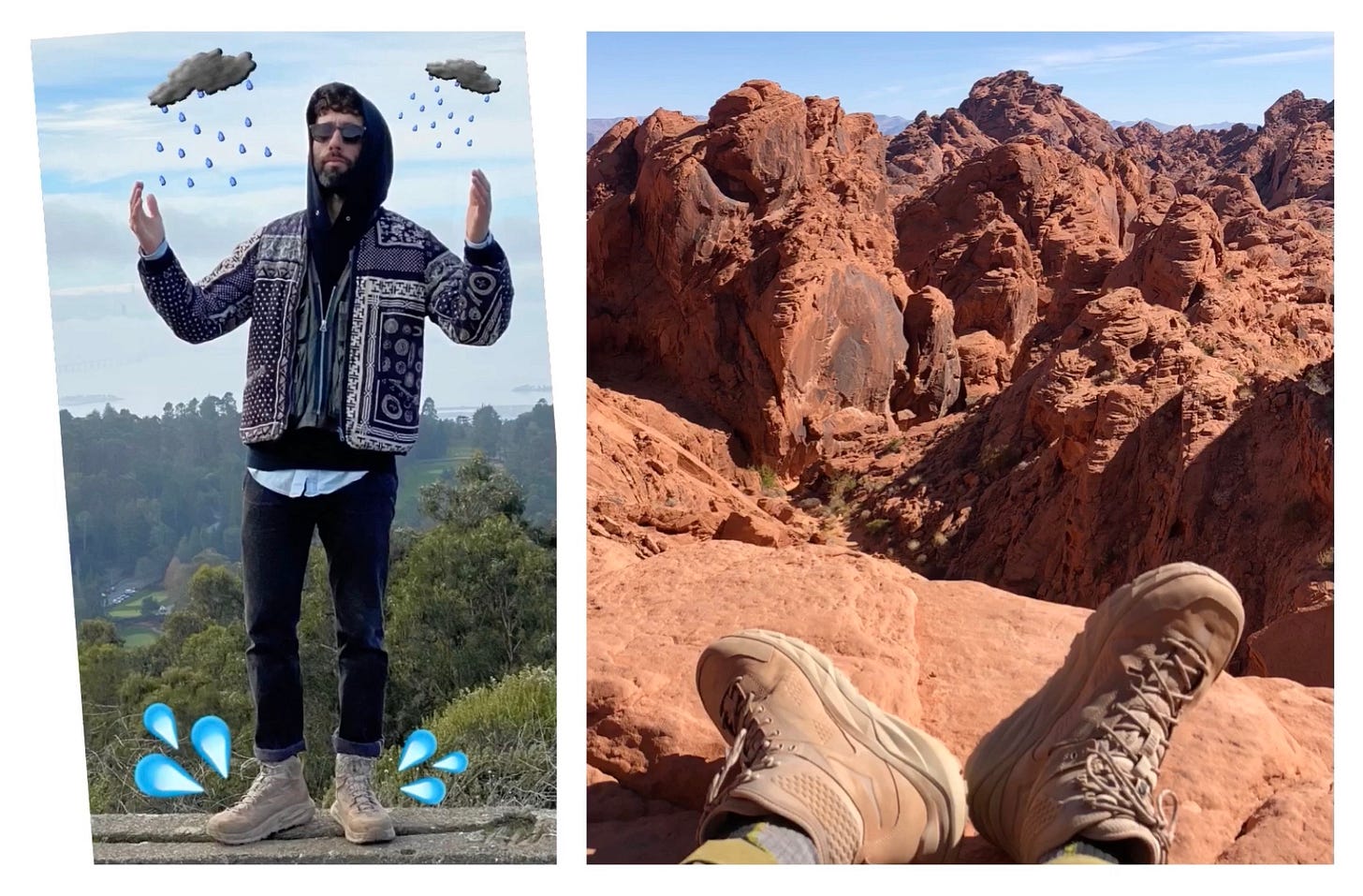 2. "Any good alternatives to Gore-Tex?" — @Cullenlewis
Here's a SPYPLANE reader who is not afraid of getting deep into fabric-waterproofing technological innovations, and we respect it. Our go-to answer is eVent, whose brand-collaboration list is here, and who get respect on outdoorsy message boards for being waterproof as f**k but more breathable than Gore (some Gore partisans dispute this).

Last year we copped a pair of eVent Hoka Sky Kahas, pictured above, and these boots r not only waterproof (not to mention thicc as fucc) but definitely well-ventilated, as we learned hiking thru a Nevada state park (above right) so blazing they call it "THE VALLEY OF FIRE" … & the dogs did not overheat.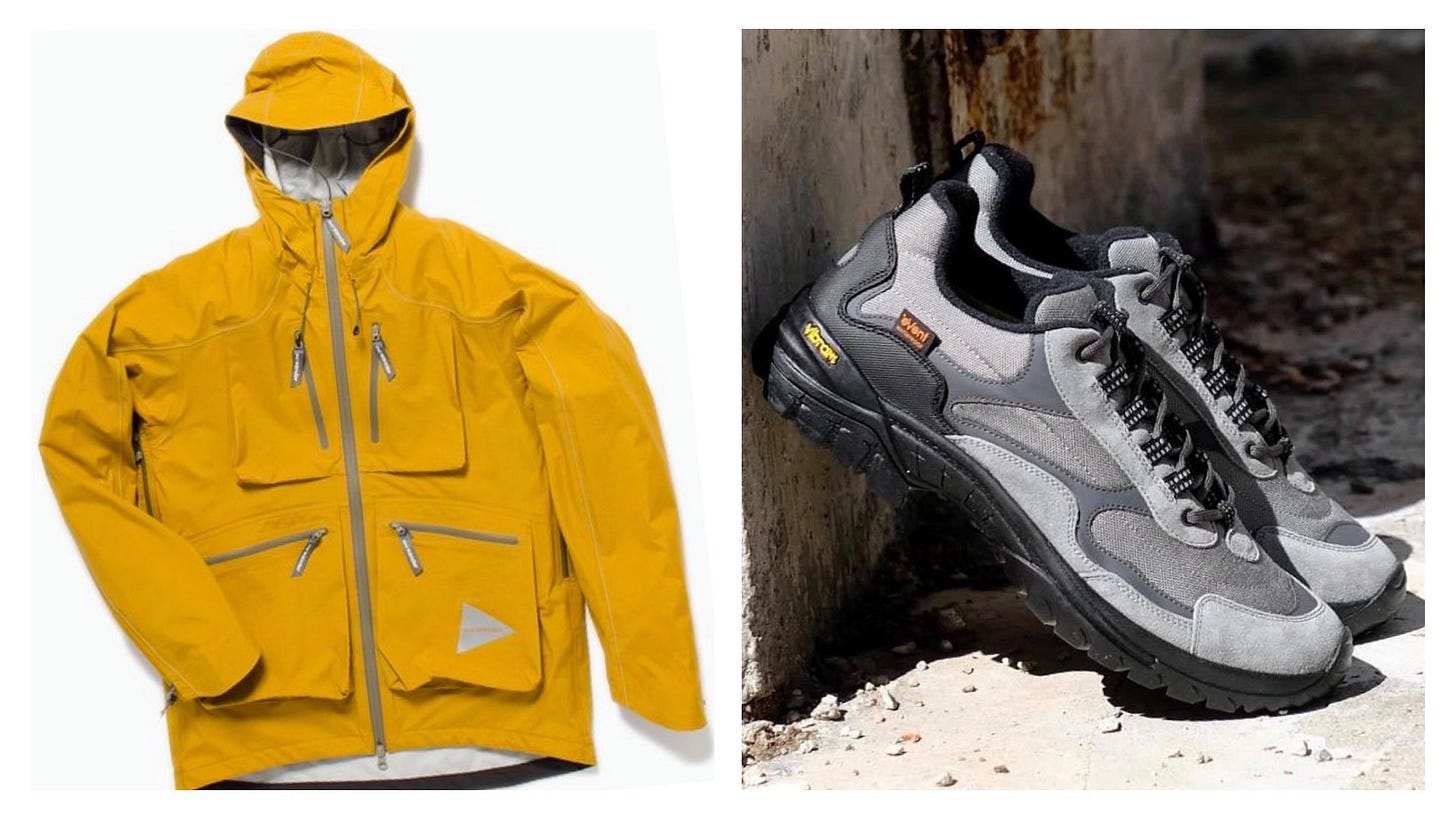 Also: after we spent years enduring a leaky-ass Nanamica Gore-Tex rain jacket 👎 we copped one of the eVent joints from Blackbird Spyplane's favorite neo-GORP visionaries And Wander... & it's a major upgrade: waterproof but light enough to use as a windbreaker on a stroll around the damn neighborhood.

Meanwhile, above right is a SUPER SICK pair of eVent-waterproofed "New French Military Trainers"… Best we can tell (without digging deeper than we're prepared to dig at the moment) these are most readily available from a store in Hong Kong called Hide & Seek. But when we messaged them about how to cop, they hit the SPYPLANE with "total radio silence" — if u make a breakthrough, let us know.

eVent is increasingly hard to come by — and there's some intrigue at play here… You can find ppl in those outdoor forums theorizing that since Gore is so huge they can pressure brands to use their s**t exclusively and crowd out the competition. Further investigation is necessary but case in point: Hoka seems to have discontinued the eVent version of the Sky Kaha and now they make it with Gore-Tex instead … DO WE NEED GORP-ANTITRUST ACTION to BREAK UP THE GORE GORPOPOLY??
***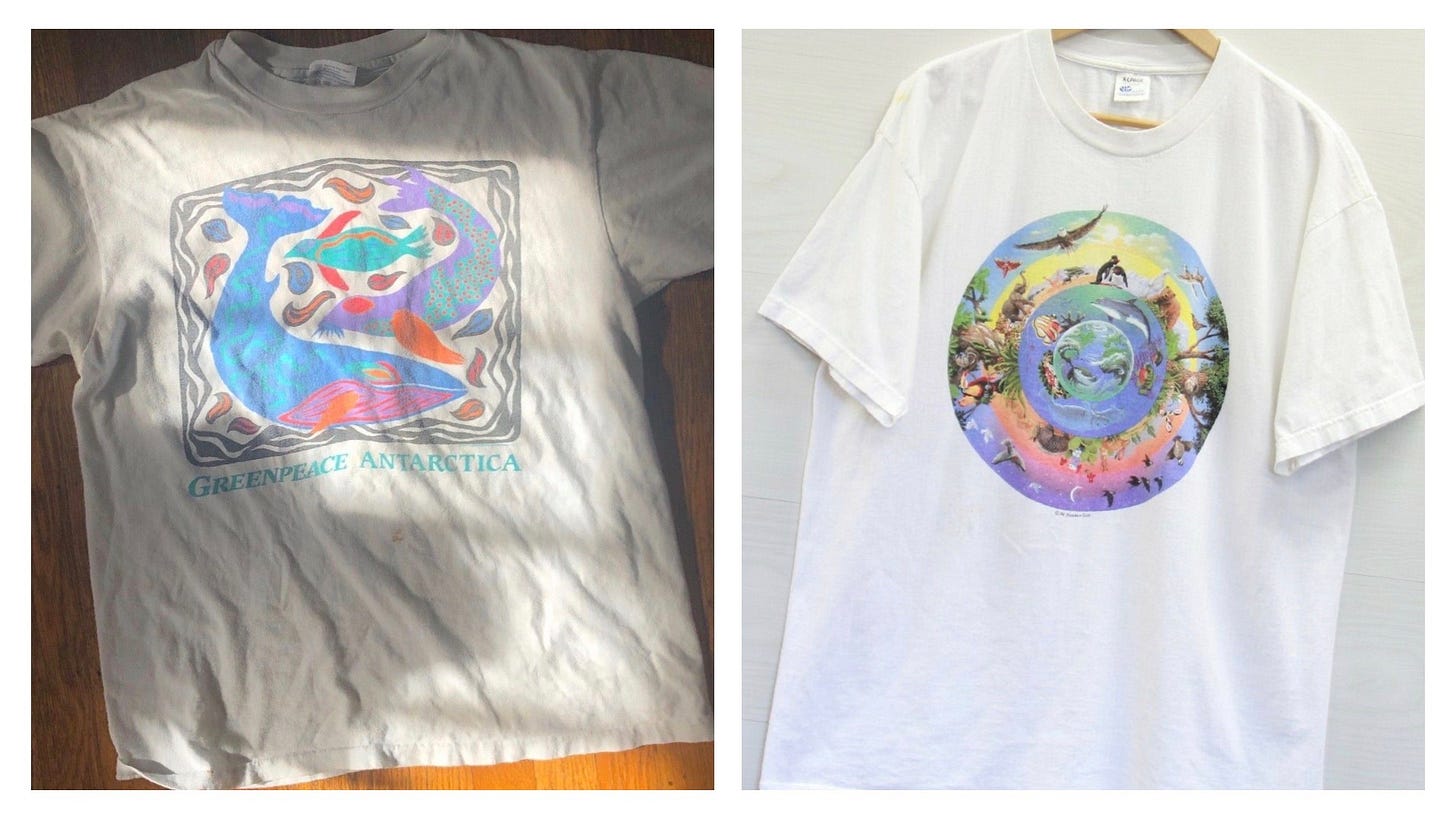 3. "I'm in the market for vintage environmentalist merch i.e. Greenpeace. Ideas?" — @Petesmiley  
This is a great question that opens up onto a RICH TERRAIN of beautiful & vibey joints. Before we get to it, it's important to emphasize is that the Earth is not an aesthetic fetish or "mood board accent" so if you are gonna rock one of these t-shirts then please also commit yourself to funneling campaign $$$ or volunteer hours to any politician who bangs with the Green New Deal in a substantive way — and if a politician doesn't bang with the Green New Deal then it's F**K THEM 4 LIFE… buying "eco" detergents, whipping electric cars and rocking upcycled jawns is cool but individual consumer choices are not going to come close to beating back global warming… so the Green New Deal is a start, but the end of capitalism is required, lovers!!

With that on the record, we found a ton of cool vintage eco-merch, such as the lovely Greenpeace Antarctica tee, $30, above left, and the Human-i-Tees gem above right, available for $40 here and $20 here …

We put a bunch of other finds in our new "Blackbird SpyMall," which you can check out here.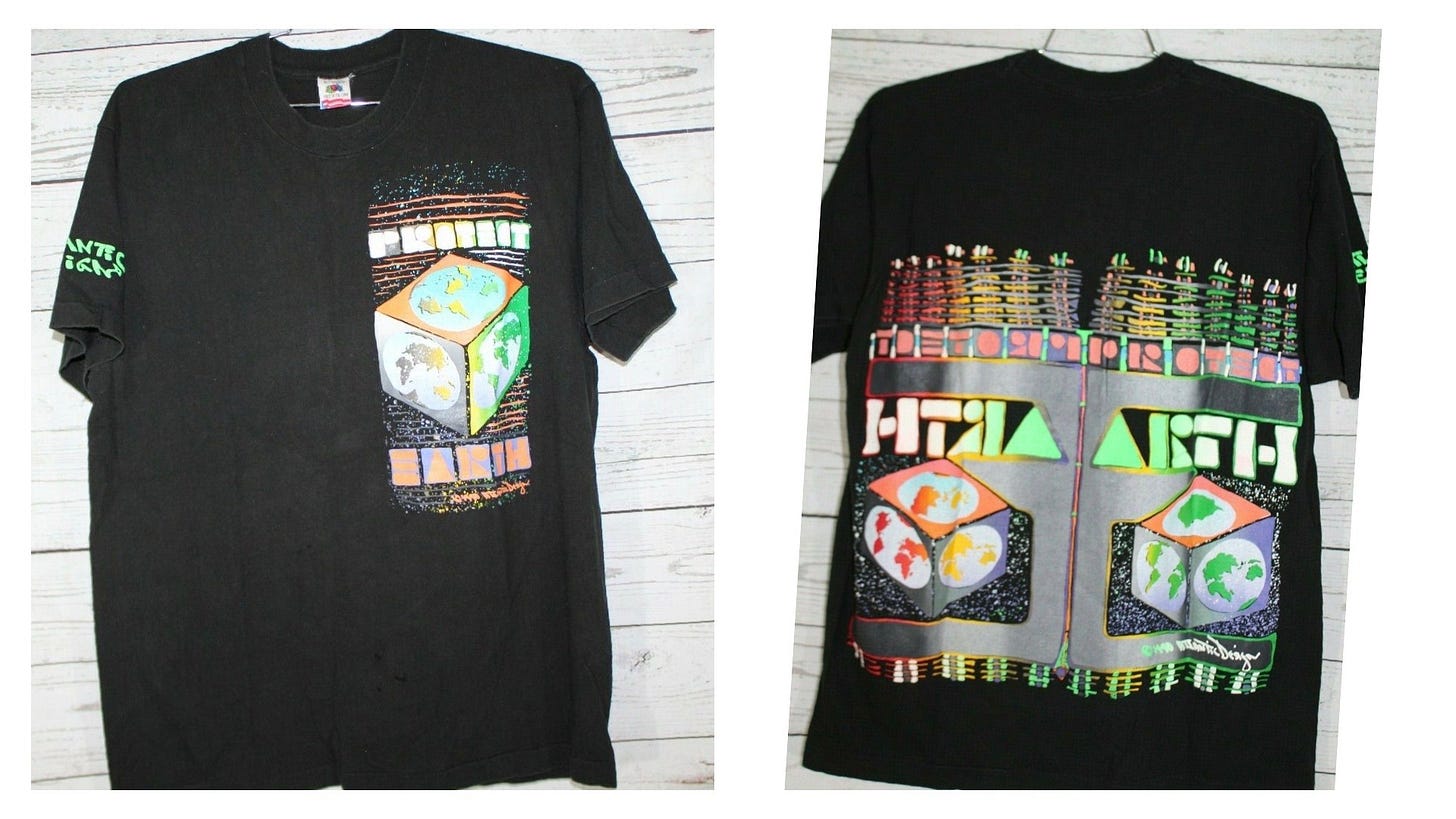 This insane "Protect the Earth" graphic tee above looks like it was made tomorrow BUT it was made in 1990! And it's only $50!? If one of u doesn't cop this shirt within ~5 minutes of us sending out the newsletter we will be stunned. [UPDATE, 8:15 A.M.: SOMEONE COPPED IT — U GOT 2 OPEN THESE EMAILS FAST!!]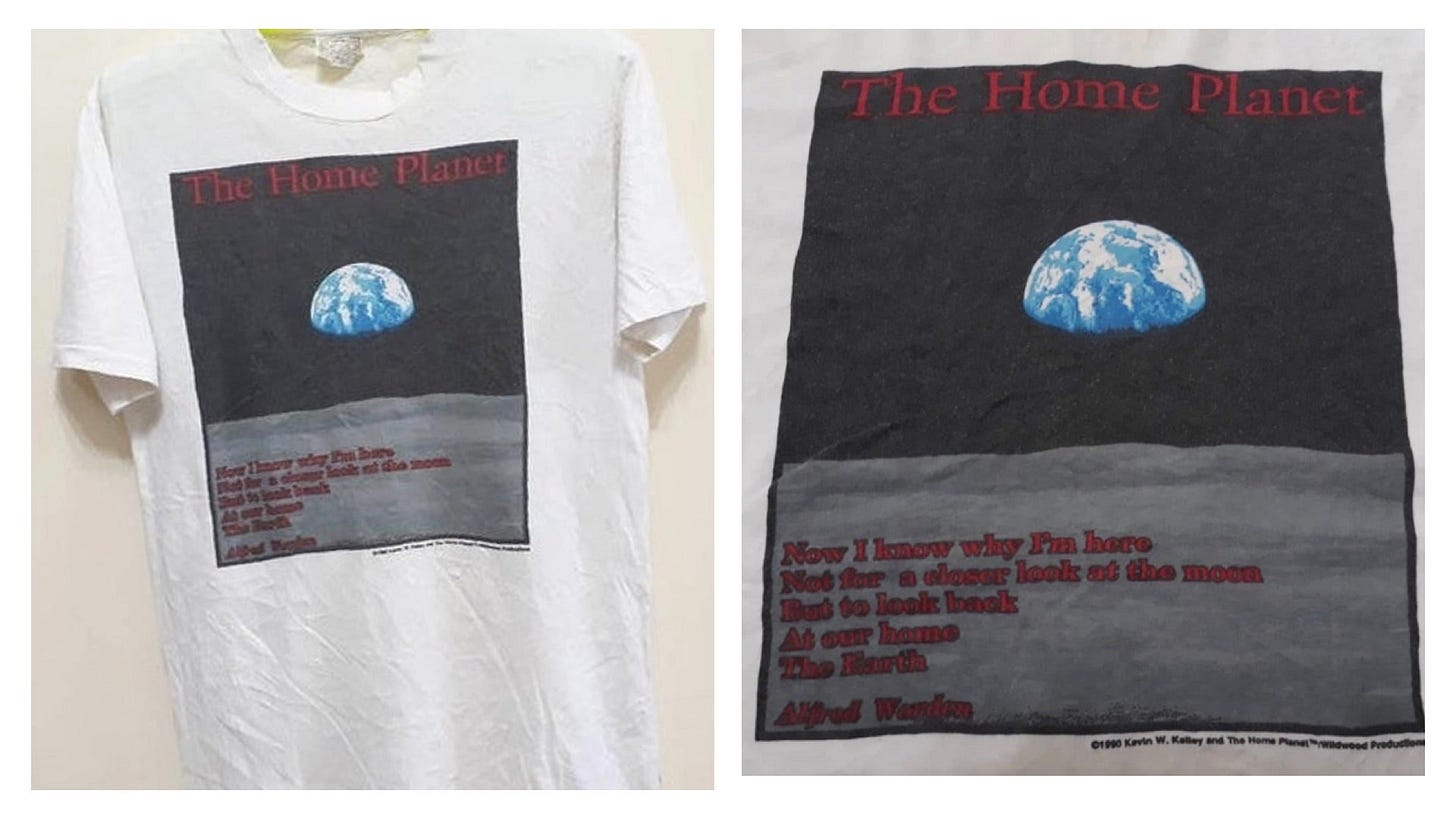 This one is great — featuring a shot of the earth taken from the surface of the moon & a quote from astronaut Alfred Worden about looking at the earth from the surface of the moon … $80 here. [UPDATE, 8:15 A.M.: SOMEONE COPPED THIS ONE TOO.]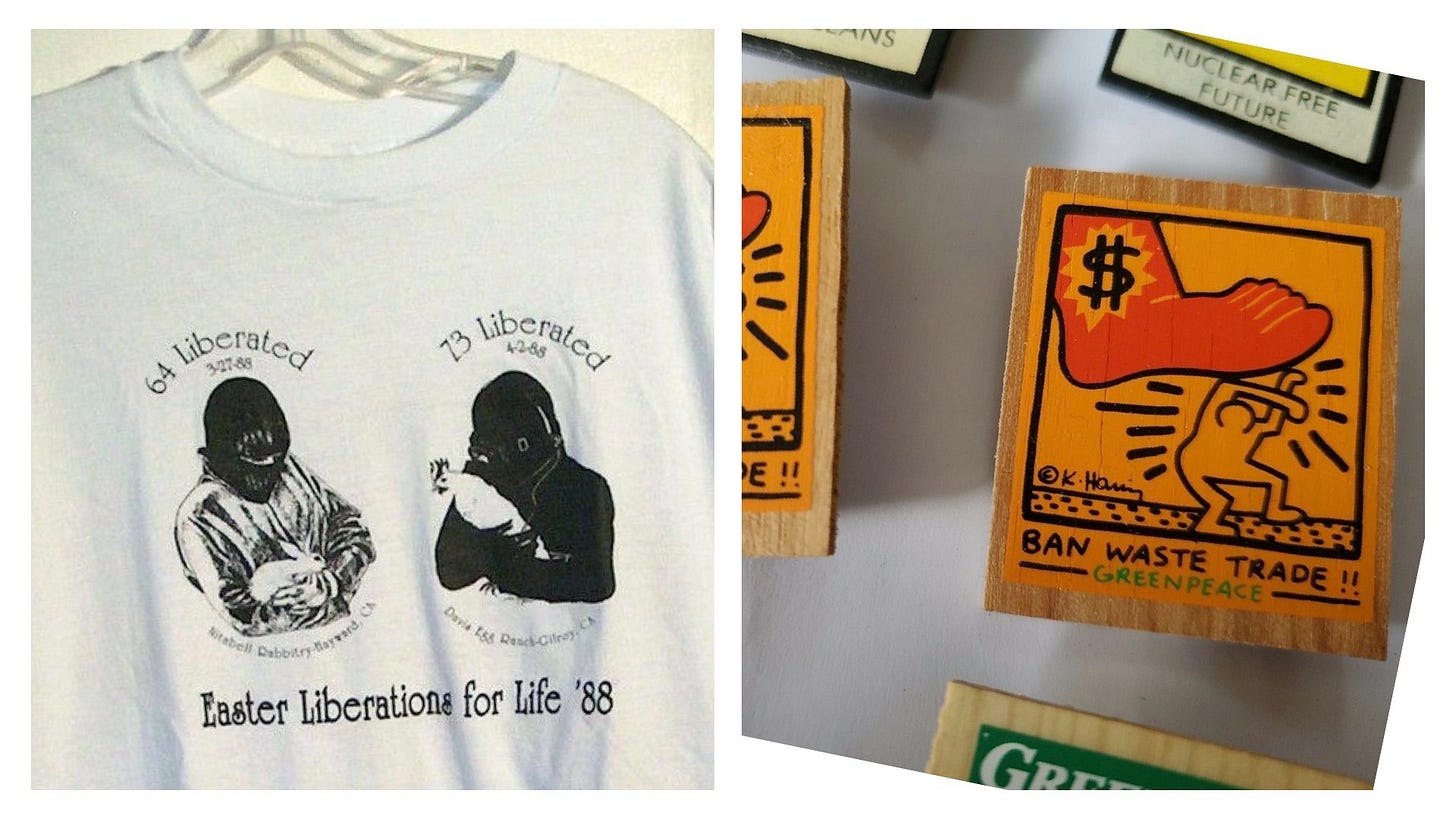 Above right is a nice wooden Keith Haring Greenpeace pin someone's selling on eBay (we focused mostly on tees but that's obvs just the start of the environmentalist-merch game).

Above left is an excellent 1988 animal-liberation commemorative tee, depicting 2 masked kings rescuing bunnies & chickens from slaughterhouses — which is a good moment for us to recommend to donating money to Direct Action Everywhere, a nonprofit that agitates for animal-rights legislation and does extremely brave & extremely moral industrial-farm rescues. BLACKBIRD SPYPLANE has a firm f**k-you policy toward the horrors of animal agriculture — love the earth, be kind to its creatures, and let yr jawns reflect it, baby!
***
4. "where can I find good super heavyweight sweatshirts? (+14 oz) thx" — @Worldeater2020
When it comes to sweatshirts, some ppl are not content to drape themselves in faintly whispered suggestions of cotton — they want to be crushed under the sweatshirt equivalent of KNIGHT'S ARMOR.

U can find heavyweight sweatshirts fairly easily, but super-heavy joints, i.e. those whose fabric weighs in at more than 14 ounces per square yard, like this reader wants, are rarer. The 2 best options we've come across are a 14.8 oz crewneck from German loopwheel legends Merz B. Schwanen, here, and a swole-as-f**k 17+ oz crewneck from 3Sixteen, who also sell a hoodie version — both have a kangaroo pocket, which is tight to find on a crewneck.

And if yr willing to accept a unique sub-14 oz option woven on endangered-species-ass vintage loopwheel machines in Wakayama, Japan: Standard & Strange here in Oakland just did a big restock on 10-oz sweatshirts from the obsessive Americana-recreators at Real McCoys — here's a navy hoodie, here's one in black, and here are some nice classic crewnecks.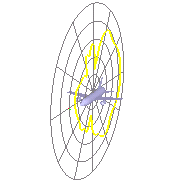 Share this newsletter with an elite tranche of 50-75 of yr wisest / most-respected friends, and brush up on our GAME-CHANGING RECON at BlackbirdSpyplane.com.